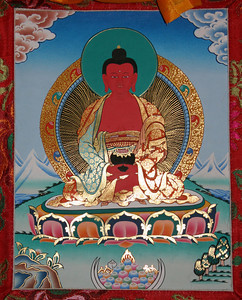 An excerpt from a teaching called The Dharma of Technology by Jetsunma Ahkon Lhamo
Compassion is the foundation of Dharma.  It is the meaning of Dharma.  Without compassion, there is no accomplishment of Dharma and you have to make a fervent prayer, a prayer that supersedes any other prayer that you will ever make.  You pray that you will accomplish the extreme great compassion, to put your mind and your heart in such a way that if Lord Buddha Amitabha did come to you and offer you the suffering of the six realms, you would eat it with happiness and with joy.  And just before you took your first bite you might say, "Please Lord Buddha, save me.  Help."  And then you'd eat.
We are all in a body that has an ego associated with it, a body that is an ego that has an "I" identity.  We want to work for our safety. We are very concerned with our safety.  So it's understandable that you might make that prayer, "Please, by the grace of the wisdom of your mind, let the suffering, once I eat it, be transformed."  But you should eat it and not really care whether it works out that way or not.  If you could be the only one that suffered and all of the six realms could be liberated, if you could be the very last, the only one left, that should be your greatest joy.  If all of the ones that you have hated and judged, the ones that you thought were the thorn in your side, if they could achieve enlightenment before you, that should make you happier than the thought of your own enlightenment.  If you can really come to that understanding not in a superficial way, but from the depth of your heart that if Lord Buddha Amitabha would give you this opportunity you would take it in a minute, then you have accomplished Dharma and you are to me the light of the world.  You are to me the best student there is.  You are a treasure.  And I don't really care if you accomplish anything else about Dharma, because the mind  that does not differentiate, the mind that is free of hatred, the mind that has overcome desire associated with the self to the extent that it will take on the suffering of all the worlds, that mind is the liberated mind.  That is a jewel.  That is the mind that is the wish-fulfilling jewel.
The reason why I am telling you this is because I want you to know as my students, I really want you to understand and have there be no question in your mind what I think Dharma is.  I want you to understand what I respect and what I admire.  I've told before that I see students that are learning the technology of Dharma and some of them hang out with the big lamas and they go for the big empowerments and stuff like that and they remain unloving, unchanged, and full of gossip, full of judgment and I don't think much of that.  I wouldn't have a student like that.
If my opinion is of any value to you at all, then please understand that to the best of my ability this is what Dharma really is.  This is the understanding that I have.  To the best of my ability, I understand Dharma to be that love. I am not going to teach you something that will not lead to enlightenment.  I don't claim to have any special powers, but if you have any consideration that I'm your teacher, any faith in me, then hear this.  If you accomplish this and do nothing else, you will have accomplished Dharma and basically, that's really all you're ever going to learn from me.  That's all I really have for you.  I hope that you will consider that precious.  There is no other Dharma.  There is no other enlightenment besides that.  The mind of bodhicitta, that is the supreme goal and there is none superior to that.  When you have accomplished that, that's it.  Your mind is liberated from the very causes of suffering and you then are in the position where you can, in turn, liberate minds.
I wish that you would actually use this technique.  I wish you could really think about what if Lord Buddha Amitabha came to you and offered you the six realms of suffering.  Would you take it?  Try to cultivate your mind and gentle your mind and purify your mind to the point where you would gladly, willingly take it and be willing to suffer for an endless amount of time, and be really happy about that.  Think that your precious self, the one that you love so much, might be deformed and made gross by that suffering.  Think that might happen and still be happy about it.  You should think about all the people that drive you crazy and all the people that you hate and try to get to the point where you're really happy if they make it ahead of you and think that the people that are precious to you, your family, the ones you make such a big deal about, make it in your mind where they are the same, exactly the same as the people that drive you crazy.  When you have accomplished that, through whatever means, and generally it happens through kindness and practice just in the way Lord Buddha dictates, then you have accomplished Dharma.
Through the cultivation of your mind to be pure in that way, through a mind like that, through that exalted mind of bodhicitta, you will certainly have the power to appear in an emanation form again and again under all circumstances, in all roles, in strange places, under strange conditions and be able to provide a means to enlightenment to all sentient beings, just through that and nothing else.  You don't even have to be smart to do that.  That's why sometimes I think intelligence is a pitfall.  You don't have to be smart to do that, but you have to be determined to accomplish Dharma.
I hope that you find meaning in this and that you have it clear in your mind what I really cherish and what's really important to me.  I would like it very much if you understood me that well at least because then if you decided that you really wanted to be my student for the duration and learn what I have to teach you, that's it.  That's all I can teach you.  But I can teach you that.
Copyright © Jetsunma Ahkon Lhamo.  All rights reserved