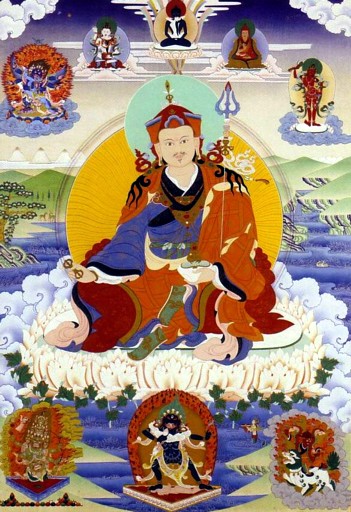 An excerpt from the Mindfulness workshop given by Jetsunma Ahkon Lhamo in 1999
The most important thing you can do to develop spiritual discrimination is to elevate the Root Guru. The Root Guru is the source of how you have come to the path, is the root teacher who gives you the preliminary teachings, is the one who hooks you onto the path.  For these reasons you elevate your teacher in such a way that you begin to awaken.  You are not awakening to the appearance of the teacher, but to the nature of the teacher.  Again, eventually, you will be able to see, not your own appearance, but your nature, and that's the goal here.  That is the point of practicing Guru Yoga.  Otherwise no one else would care, because certainly the Buddhas and the bodhisattvas don't need it.  They're happy the way they are. The Lamas offer themselves to be used in that way. We have this extraordinary opportunity.  So it behooves you to accept that offer and use the Lama.  It behooves you to take the opportunity to see that this is the appearance of Dharma in your mind, of Dharma in your life, and to lift it up within you in your mind. Lift it up and see it differently from the other ordinary things that are in your life and be able to distinguish that.  You want to be able to get past the point where you say, "Well now, I like this about the Lama; I don't like that about the Lama; I do like this about the Lama, I don't like this about the Lama, blah, blah, blah."  That's what you're doing about everything.  That's what we do about each other and, most of all, about ourselves.  This mind training is meant to wean us away from that kind of conceptual proliferation.  It is meant to allow us to begin to taste the nourishment of pure View.
Those who have known me for any length of time know that my practice is all about Guru Rinpoche.  There are many reasons for that.  One is that I have a strong connection with Guru Rinpoche. That's my great fortune and my great blessing.  In my mind and in my heart, there's nothing else.  I don't see anything else.  I'm not saying that I'm a great practitioner, but I'm giving an indication as to how this could work and what kind of formula we can develop in our own practice and in our own quest for mindfulness.  When I think about my practice with Guru Rinpoche, I look for him everywhere.  I look for the speech, for the method, for the intention of the Guru everywhere.  My experience has been that when I ask Guru Rinpoche for help, for receiving strength, receiving health, receiving whatever it is that I need in order to be strong enough to be of benefit to others, it is always there.  Even though I haven't had the training from childhood that many other Lamas have had, when I ask Guru Rinpoche for help, it is always there.  There have literally been times when I have not known what my class was going to be about until I got there to teach, and sometimes those are the best classes, because I know that I am nothing but a vessel that Guru Rinpoche's blessing simply pours through.
We are not talking about being falsely humble.  Remember that when you do prostrations, you always get up.  We don't lie on the floor for hours!  We get up, and the reason why we get up is because that's what's supposed to happen.  Through prostrating the body, through practicing this with body, speech and mind, it is our nature that rises up.  The ego gets laid down.  We lay that down, and the nature is what rises up.  Symbolically that's what's happening with prostrations.  It's all about learning to have View in a different way.
© Jetsunma Ahkön Lhamo