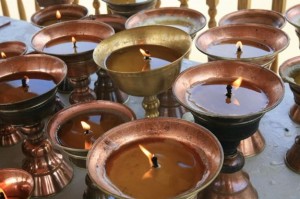 An excerpt from a teaching called How Buddhists Think by Jetsunma Ahkon Lhamo
You should think of the Buddha's teaching as a philosophy that you can follow according to your capability.  You don't need to look or act a certain way.  Basically, what you're learning is cause and effect.  You learn that there are ten virtuous activities that bring about Realization, if they are done frequently and consistently.  These are:  1.) Composition––the creation of prayers or stories which increase others' faith.  2.) Offering––even a simple butterlamp, offered daily to the Buddha, the Dharma, and the Sangha creates causes for Buddhahood at some future time.  3.) Generosity and kindness to others, even at the expense of your own comfort; you are one, and they are many.  4.) Attentiveness to the teachings––sometimes difficult when you want to go outside or fall asleep.  5.) Recitation––of prayers, practices, and mantras.  6.) Memorization––of the teachings and instructions for practice.  7.) Teaching––appropriate to do only when we are ready.  8.) Praying.  9.) Contemplation––of the teachings you receive.  10.) Meditation.
First we receive training about how to perform these activities; then we practice them the best we can.  Some people will spend a whole week contemplating the teaching I'm now giving; others won't think about it until they come back for another teaching.  But they come back!  And there is virtue in that.
The ball is in your court.  Your progress will depend on how hard you work, how well you take hold of your mind, how much you demand of yourself, how courageous and honest you are, and how much true generosity you develop.  Accordingly, you will pacify the obstacles that keep you from achieving the Awakening to your own primordial Wisdom Nature.
Until you do this, you will wander helplessly in the six realms of cyclic existence.  It would take weeks to give a thorough traditional teaching on these realms, but the purpose here is only to explain how Buddhists think.
© Jetsunma Ahkön Lhamo
To download the complete teaching, click here and scroll down to How Buddhists Think