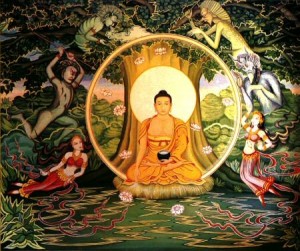 The following is respectfully quoted from "What Makes You Not a Buddhist" by Dzongsar Jamyang Khyentse Rinpoche:
WHAT BUDDHA FOUND Without a single scientific tool, Prince Siddhartha sat on a patch of 
kusha
grass beneath a 
ficus religiosa
tree investigating human nature. After a long time of contemplation, he came to the realization that all form, including our flesh and bones, and all our emotions and perceptions, are assembled--they are the product of two or more things coming together. When any two components or more come together, a new phenomenon emerges--nails and wood become a table; water and leaves become tea; fear, devotion and a savior become God. This end product doesn't have an existence independent of it's parts. Believing it truly exists independently is the greatest deception. Meanwhile the parts have undergone a change. Just by meeting, their character has changed and, together they have become something else--they are all "compounded."