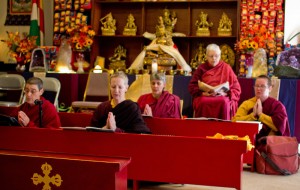 The following is an excerpt from a teaching by Jetsunma Ahkon Lhamp called "The Habit of Bodhicitta"
As Buddhists, I would like you to think about what your directive is. I want to ask first those who are in robes. I want to actually ask them and give you the answer, but I'm going to pretend that I'm asking them, because I'm desperately afraid that they might not know.
Your primary directive is to follow the Vinaya. Vinaya is a set of cause- and effect-oriented rules, basically, a format that those in robes should follow, and the Vinaya becomes the heart practice of your life. You should, of course, receive teachings on the Vinaya, which you have. You gradually begin to understand the Vinaya. It is your responsibility to study the Vinaya; it is your responsibility to go after information about the Vinaya, because that's your code. The Vinaya has a great many items that we should practice and look at. In particular, as robed persons, as monks and nuns, there are certain rules that seem very strict, but that you must follow. For instance, I don't know if the lay people are aware of this or not, one of the rules in the Vinaya is that at a certain level of ordination, monks and nuns should not touch members of the opposite sex. Yet, here in Kunzang Palyul Chöling, one sees monks and nuns shaking hands, hugging, handing things to each other. Are we breaking the Vinaya here? Are we doing that?
We have a slightly different perspective. The Vinaya has not changed. Not in any way. What has been will always be. These are the Buddha's words. But in Vajrayana, we have a slightly different perspective. If we have the idea in our minds, according to the Vinaya, that we should not touch members of the opposite sex in order to keep our celibacy really pure, that we should keep it very pure, yet we find ourselves [ touching] each other, how does that actually work out? If I, for instance, were a nun, let's say, and I were to see a man that was very hungry or in need of some sort of medical help… Perhaps he fell down and he needed help getting up. Do you think I would hesitate for one moment to help that person or to give them some food? Or if I saw that a person needed the connection of a hug, needed the connection of some comfort; needed a greeting in order to feel accepted and welcome, do you think I would hesitate for one moment to give that sort of sustenance? Even if the Vinaya says not. That's because the highest ordination that I feel as a Mahayana and Vajrayana practitioner is that of compassion. And in our tradition, compassion and love supersede everything. So the Vinaya is kept, but it is kept differently.
The way that these monks and nuns should be keeping the Vinaya is that, for instance, as a nun, whenever one sees a man, you should think of pure view about the man: You should think of the man as what we call a yidam or meditational deity. You should think that in that man's pure form, he is the very Buddha. One should think like that. One should recognize the innate Buddha nature in each and every one; and one should think that each and every one holds that nature and that nature is actually present. We accomplish our practice by thinking of each man as the meditational deity. Those of you who are monks would think of the woman as being the goddess or the enlightened female deity, the primordial wisdom dakini. And in that way, upon touching a man or a woman, one is never actually touching a man or a woman. One is only approaching the meditational deity or the goddess. One still keeps one's inner commitments, yet the highest commitment is that of compassionate pure view.
Of course, you can't bend that irresponsibly, in fact you can't bend it at all. None of you can take marital partners; none of you can engage in any kind of ordinary relationship in that way. But in order to uphold the highest ordination of compassion and the highest practice of pure view, you can engage in those kinds of activities that enhance that view.
Now for lay people, we don't have the same strict approach. As lay people, though, we should never, never think that we can do more than them. We should never think like that. Because if we are thinking like that, quite frankly, that is a pretty schlocky practice. That's just not going to cut it. We should never think that, 'Oh, because I'm a lay person, my conduct can be very loose, I can do whatever I want.' As Buddhists you have to actually move into the posture of being a Buddhist practitioner. You have also in common with these monks and nuns the highest ordination, and that is the high ordination of the practice of bodhichitta, or compassion. If you were to hold in your mind the idea that everything you do comes from the perspective of caring, of love, of kindness for others, then you're still holding your vows. The trap that we fall into, though, as lay practitioners, is the idea that because we are lay practitioners, we can basically get away with murder. Actually, the Vajrayana point of view is very much geared and directed toward lay practitioners. Lay practitioners have a great distance that they can go and a great breadth and depth of practice that they can practice. They don't have the strict guidance rules to the degree that the ordained people have, but in a sense, they have even more responsibility, because not having those strict rules, they must find a way to practice purely. And as lay practitioners, that's our job: to seek out and really try to get for ourselves a way to practice purely. We may not understand how and we have to search it out. It isn't enough to remain passive in our practice, to think that, 'Well, eventually I'll get the answer, and it will be clear to me, and in the meantime, I'll just kind of scoot along.' That would not be holding a proper view, that would not be holding our practice as a precious jewel, and that would not be doing a good job.
As a lay practitioner, we also have the responsibility of seeking out the absolute best way that we can hold our most precious inner vow, that of bodhichitta, or compassion, and we should aggressively seek out ways to do that. In order to seek out ways to do that, we must first examine how it is that we are in the condition that we are in. The Buddha teaches us that the primary directive, or motivating force, the reason for all of our suffering, is self cherishing, ego cherishing. Sometimes it looks like some of us have a lot more ego cherishing than others. Sometimes it looks as though some people are able to do a lot for others, and to be real kind and other people are only thinking about their own needs. But in the truest sense, that's just a very superficial appearance. In fact, we are all exactly the same in that we are all in a samsaric condition, stuck on ego cherishing, stuck on the belief in the inherent reality of self nature, and therefore, suffering due to desire, hope and fear, not able to actually witness or see or relax into our own primordial wisdom nature.
Copyright © Jetsunma Ahkon Norbu Lhamo All rights reserved