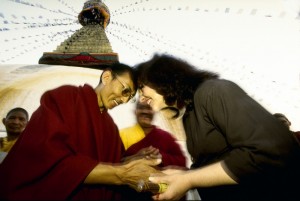 The following is an excerpt from a teaching by Jetsunma Ahkon Lhamo offered during a Phowa retreat:
Now we'll speak about the bardo of becoming. I forgot to mention to you that I've had many opportunities to practice Phowa on other people, and I've noticed that in every case, even if the person had been something of a practitioner or had tried to meditate, or had minimal experience, in every case, if you were not there exactly at the moment of death to facilitate the person at that time, there would always be a period of about three, three and a half days where the person was unreachable. Where you could literally practice Phowa for them and it would do no good whatsoever. You cannot rouse them out of the deep slumber or death-like sleep that they have once they do not recognize that clear light. You cannot rouse them at that time. You have to wait until they come to the bardo of becoming. Then the lama will appear to them or try to reach them and guide them out of the bardo.
How well is that done? There are two situations upon which how well that works out are dependent. One of them is, of course, the qualities of the lama—whether the lama has awakened, whether the lama is capable, whether the lama has realization in their practice. That is, of course, one of the conditions. The other one is, of course, the degree to which the student or the person who has died has any connection, even if it's only a residual connection, with devotion. If the person has no connection with the practice of devotion, if the person has never practiced devotion or has no capacity for devotion, the best of lamas will not be able to reach them in the bardo. It is not possible. They may be able to afford some blessing for them, but they will not be able to rescue them. They may be able to guide them in a better rather than less good direction, but they cannot prevent them from going through the bardo of becoming.
Generally, you have to rely on the student's connection with devotion.If the student has a great deal of devotion, the lama will be able to appear clearly as their spiritual guide during the bardo of becoming. The lama will be recognizable. The student will have faith in the lama; they will go toward the lama without fear. The force of their devotion will propel them toward the lama. They will enter into the lama's heart, and they will experience the wisdom that the lama has to afford them. They will be rescued from the bardo and liberated in the state of becoming. So sharpen up that devotion, you guys.
Copyright © Jetsunma Ahkon Norbu Lhamo All rights reserved