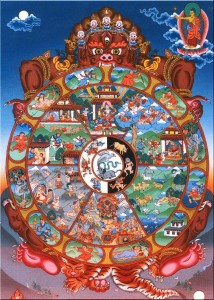 The following is an excerpt from "Buddha in the Palm of the Hand" Nam Chö Ngondro revealed by Terton Migyur Dorje:
PAL KUNTUZANGPO LA CHAG TSAL LO
I prostrate to the glorious Samantabhadra
DAL JOR DI NI SHIN TU NYED PAR KA
This precious human birth is extremely difficult to obtain.
CHI DANG CHI LA KYE KYANG MI TAG CHI
All things born are impermanent and must die
GE WA CHÖ LA BED NA SANGYE GYU
If one perseveres in virtuous Dharma, this is the cause for becoming Buddha.
DIG PA GANG CHE DE TA'I RIG DRUG KHYAM
Whatever negativity is produced will cause one to wander in the six realms.
YI DAG TRE KOM DÜD DRO LUN PO DANG
Hungry spirits suffer from hunger and thirst, animals from stupidity,
NYAL WA TSHA DRANG MIKYE GE NA CHI
Hell beings from heat and cold, humans from birth, old age, sickness and death,
LHA MIN THAB TSÖD LHA YI DUD NGAL YÖD
Jealous gods from warfare, and even gods (Devas) also have their own suffering.