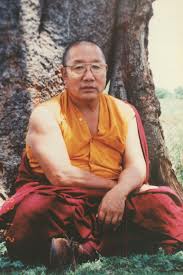 The following is adapted from an oral commentary given by His Holiness in conjunction with a ceremony wherein he bestowed the bodhisattva vow upon a gathering of disciples at Namdroling in Bozeman, Montana, November 1999:
Let us begin by considering limitless space. Then consider just as space is limitless, so too are parent sentient beings.
Since beginningless time, every sentient being has been our own parent in a past lifetime, and every sentient being from each of those lifetimes only showed us inconceivably great kindness. We must recognize that. We must also recognize that we have obtained that which is so difficult to obtain: the precious human rebirth–and that we have met with the doctrine that is so difficult to meet: the doctrine of Lord Buddha. Recognizing these things, we must understand that the best way we can repay the kindness of all parent sentient beings is by placing every one of them in a state of fully enlightened buddhahood. Therefore, (all of you here) please cultivate this aspiration. Having arrived at this critical juncture, you can now make your choice between samsara and enlightenment.
Now that you have obtained this precious human existence, you must extract its essence in order to make it meaningful. What makes this life meaningful is engaging with the spiritual path rather than just pursuing worldly activities for this life only, such as activities to increase wealth and material endowments or [activities to achieve] fame and personal gain. What makes this precious human existence meaningful is striving to realize the nature of this life.
This precious human existence is extremely rare. The following analogy illustrates just how rare it is: Imagine that upon the surface of a vast ocean floats yoke tossed continuously by wind and waves. Within that ocean swims a blind tortoise that surfaces for air once every hundred years. Of course, it is possible for the tortoise to emerge with its head [passing] through the yoke that bobs on the surface, but the chances that this will occur are extremely rare. Obtaining this precious human birth is just as rare as the tortoise surfacing for air one time in a hundred years with its head [passing] through the bobbing yoke. Surely this [surfacing] is possible, but it is so difficult and unlikely that it is next to impossible. Obtaining the precious human birth is likewise difficult.
If you use your precious human body just to accumulate an abundance of negativity, then you will certainly fall to the lower realms. If you accumulate the non virtue to fall to the hell realm, for example, you could remain there for the equivalent of hundreds of thousands of years, for incalculable periods, where you would experience inconceivable suffering. Eventually your karma there would be exhausted, and you would make it out to the peripheral hells; from there you would eventually make it to the deprived spirit realm and then eventually to the animal realm. In all these lower realms you would experience nothing but suffering; furthermore, you would accumulate only nonvirtue, because not even the thought of virtue exists in these realms. That is why if you fall to the lower realms of existence, you will remain there indefinitely, circling from hell to animal to the deprived spirit realm and so on, endlessly. Very few [beings] actually have the good fortune to leave the three lower realms. Considering this, you will appreciate just why it is so difficult and rare to obtain human rebirth.