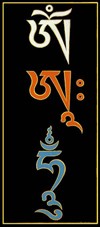 The following is an excerpt from a teaching by Jetsunma Ahkon Lhamo offered during a Phowa retreat:
There is one way that you can help yourself to prepare for the bardo state. As I begin to explain the bardo of becoming now, which is the next stage in the bardo, and a very important one, you will see how important it will be to you if you can successfully practice generating yourself as the deity. That's called generation stage practice. That is a practice that is available for you to learn right now, even before practicing your Ngöndro. It is permissible, acceptable and desirable for each of you to practice, first of all, the Shower of Blessings, which is the generation of Guru Rinpoche—not oneself as Guru Rinpoche, but a generation of Guru Rinpoche in front of oneself giving blessings. That brings about a definite firming and developing of one's relationship with Guru Rinpoche—one's relationship with the appearance—the nirmanakaya form of all the Buddhas, in fact, because it gives us a relationship with the appearance form of that which is actually enlightenment itself. So there is that. There is also, even before Ngöndro, the opportunity to practice generating oneself as Chenrezig. Chenrezig is considered to be one of the main bodhisattvas who can block rebirth in the lower realms.
Phenomena is not solid and concrete the way we think it is. So we find that in generation stage practice we have the wonderful opportunity to be able to meditate on our true nature, allowing ourselves to dissolve into emptiness. Subtly we dissolve into emptiness and remain meditating on emptiness just momentarily, meditating on the emptiness or illusory quality of our own nature. Then we give rise to our self as the deity, and that takes different forms. Generally, it starts with a seed syllable which is symbolic of the qualities and mind state of the deity. Then after that, we begin to actually give rise to our self as the deity. But the deity is understood to be only as solid as, say, a bubble, or as gossamer thin, if you will, as a whisper. It has all of the solidity of dew, just before the sun dries it up. We generate ourselves as that deity and we are subtly meditating on a dis-attachment to the heaviness of our own consideration of what we are. We're also seeing ourselves in a completely different way.
Now why does generation stage practice prepare us for the bardo? First of all, it gives us enough spaciousness in our mind to have another idea besides 'I am, and I want,' which is probably the only idea we ever have, if you boil it all down—'I am, I want, I think.' So here we are in the bardo able to take a step back from that, and perhaps that will give us the spaciousness, the moment of space, that we need. Somewhere inside that knee jerk reaction tendency, we need to have a moment of space where we can consider where we are and what to do about it. And the lightening up that we have in generation stage practice will help with that. Furthermore, and most importantly, we will begin to recognize these displays, these many displays of the Buddha nature that appear as the meditational deities. These are forms, these are display forms which are actually pictures of, or movements that express, or dances that show, or colors that display or indicate, the qualities of enlightenment. That's actually what the meditational deities are, if you think about it. They are enlightenment in display or emanation form. What they are holding in their hands, what they're doing, indicates to us those particular qualities that are being isolated and demonstrated at that time. So we become familiar with the many different ways in which our Buddha nature is demonstrated, is displayed, and that prepares us for the bardo of becoming, because it is in the bardo of becoming that the BBuddhas actually come to meet us. We will see them, and we can have liberation through recognition. It is actually the easiest form of liberation in the bardo. That is liberation through recognition. For most of us, that will be the easiest form.
Copyright © Jetsunma Ahkon Norbu Lhamo All rights reserved