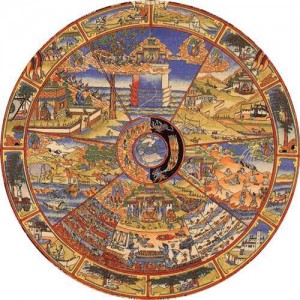 The following is an excerpt from a teaching by Jetsunma Ahkon Lhamo called "Take Control of Your Life"
In contemplating our lives and in proceeding mindfully, we begin to understand that the Buddha has peeled away the veil a little bit to show us that we are not only material beings affixed on the time and space grid, that we are not these lumps that are there. The Buddha has peeled back the veil a little bit and shown us that we are spiritual beings. That our very appearance is the display of primordial spiritual essence and that the events and activities in our lives are merely the result of causes that we have definitely created in the past. That we are continually, by our habits and by our thinking and by our activities, by our consciousness, continually creating the causes for the future. This is what the Buddha has taught.
Now in other religions, there are good laws, like don't kill, don't steal. All the religions have the same basic laws. But in the Buddha's path, he teaches us about cause and effect. We are made to understand the relationship between cause and effect. The potency implied in that is that for the first time, we are humans with tools, rather than humans with sticks and stones. It's as though spiritually we moved into the new age of having actual tools rather than being some sort of homo sapien who just kind of, in an animal way, deals with what life brings the best that it can.
Yes, the Buddha has given us tools. But do we understand how to follow them? And how to use them? And here's the problem. What we don't understand is this—and this is not necessarily the fault of each and every individual although we must take responsibility for our own habits and thoughts, it's the only reasonable and healthy way to move forward: We are born in a culture that does not explain reality. In fact, we are born in a culture that believes in the solidity of form, believes in division and delusion and duality and doesn't understand cause and effect relationships very much at all. We live in a very externalized culture where yes, we understand that if you steal something, if you get caught, you'll go to jail or get in trouble with the law. But we also think that if you steal something and don't get caught, that the stealing didn't happen. I remember thinking how many times I have met up with students that you can tell they've been taught that. You're ok as long as you don't get caught. Most of us learn how to manipulate our lives and manipulate our environment so that appearances meet in accord with our society. But we have never been taught what are the real tools for happiness. We have never been taught that. We've never been taught that the stealing produces future cause whether or not you get caught in this lifetime.
There are other reasons for stealing. I personally don't believe the fear of punishment is going to stop too many people who are hungry from stealing some food. If you're hungry, your mind is different. Or for a person who is so poor that they can't think of any other way to get by, the fear of punishment won't stop them. But perhaps, if they lived in a society that taught from birth the fact that if you are poor now, it's because you have not been generous in the past. If you wish to achieve more prosperity, the best thing to do is to be of benefit to others, because stealing will only make more impoverishment, more poverty. We're not taught that. We're only taught to look at the external.
But in a Buddhist society, we are taught that our minds are important. We are taught that we must tame the mind. Within the mind are the five poisons and without being tamed, they will result in unhappiness if they are left to run wild. We have the poisons of ignorance, anger, slothfulness, desire, jealousy. We have them all.
Ignorance in this case doesn't mean that you didn't go to school. Ignorance in this case means that you have no wisdom. It means that you do not understand the nature of reality, have not been taught the cause and effect relationships and karmic relationships that provide the future reality nor what creates your present reality. So we are ignorant of how we are, what we are, and how we have come to be here.
So we have these five poisons and never understand that these five poisons are not our nature. They are occlusions in the diamond mind. They are dirt on the pristine window that is consciousness. In their pristine nature, they are the five primordial dakinis; they are the five primordial Buddhas in their nature. They are the qualities of Buddhahood: omniscience, omnipresence, compassion—these kinds of qualities and activities. And so as Buddhists, the veil is brought to the side so that we can look and see cause and effect and the nature of mind.
Copyright © Jetsunma Ahkon Norbu Lhamo All rights reserved