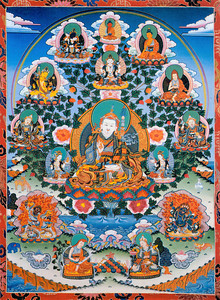 From The Spiritual Path:  A Compilation of Teachings by Jetsunma Ahkon Lhamo
Perception, or revelation, varies according to the capability of one's own mind. A mind dulled by obstacles and obscurations can go to a holy place, hear a holy teaching, even bow to a holy one—and walk away unaffected. The mind that is quickened and ready can come and drink, perhaps not understanding what it has drunk, but at least knowing that this is true nourishment. The mind that is truly realized can perceive that upon every atom there are Buddhas beyond counting; that one's own Root Teacher is the Dharmakaya Buddha come at last; that Guru Rinpoche is the emanation of pure compassion who made all of this possible; and that He has entered, in many forms, into all levels of cyclic existence. Such a mind can understand that every sound is the voice of the Precious Guru, that every breath of air is the movement of His teachings.
Any revelation that purifies the mind of duality and delusion, bringing forth the nectar of compassion from deep within you is the Precious Guru appearing once again. Any path such as Vajrayana, which leads to enlightenment in a definable, reliable way—is itself the appearance of the Precious Guru. If you achieve realization in this lifetime, that is Guru Rinpoche. If you hear a teaching, which brings enlightenment closer, that is Guru Rinpoche. If compassion is born in your heart so that you will spend your life practicing and praying for others and discovering within yourself all-pervading compassion, that is Guru Rinpoche. He is the Guru of compassion, the Guru of boundless light, the Guru of great love, the Guru of supreme medicine. He is the voice, the body, the mind, the heart, and the very embodiment of the all-pervading, compassionate nature of Dharmakaya. He continues to appear in a form that is accessible and real in every culture. He simply is. He is present within you now. Even as you read this, you can feel His presence. You can see Him in every part of your life. Strive at every moment to birth Him in your mind and heart. Pray never to be separate from the Three Precious Jewels and always, in every breath of air, to encounter the Precious Guru.
If you sincerely wish to end suffering in this and all other worlds, sincerely wish to root out the causes of suffering in your own mind, the Guru is active within you. In that sincere wish, He is calling you. Because of that sincerity, you will see Him. You will see Him even physically, for you will surely find an excellent and perfect Teacher. As Guru Rinpoche said, "I will come as your Teacher." If your heart is pure and sincere, the Guru will appear before you.
In Vajrayana, even if your teacher is not enlightened, you can attain realization through pure faith, provided you seek only that which will cleanse all non-virtue from your mind, which will reveal the true, uncontrived face of Dharmakaya as your own face, and if you deeply wish to end the suffering of all sentient beings. Then your Teacher, even unrealized, will act upon you as Nirmanakaya Buddha. If with pure intention you accomplish your part of the bargain, you will find that your teacher is in fact Nirmanakaya Buddha. Your job is only to keep your heart pure. If you do not practice, if you deceive yourself in your practice, if you do not practice sincerely, or if you practice for the wrong reasons, not only have you accomplished nothing but you are only fooling yourself, for you will never see that precious face.
What is available to you now is the realization of the Precious Guru. He is the medicine for all ills, the end of suffering. He appears on this earth by the virtue of primordial nature and uncontrived mind. His virtue and nature are such that they are constantly revealed. They are all-pervasive. That is the truth of the Precious Guru. He appears upon the earth time and time again, in whatever form the karma of beings requires. He is food and drink, available the moment you feel hunger and thirst. He brings you the path to supreme enlightenment. He abides in all aspects of that path: the Teacher, the Sangha, and the Dharma. You cannot cut Him out of your mind, but you can ignore Him. Yet even after that, the moment you turn around, He is there.
I hope that this is helpful to you. If it can inspire even a little devotion in your heart and mind, it is worthwhile. Great devotion is necessary on this path, but we are too stiff most of the time. Do you remember the story of Jesus washing the feet of his disciples? That was an act of devotion, the perfect act of a Bodhisattva. We should all serve each other. We should care for others more than we care for ourselves. Devotion is the softener of hearts. It causes pride to be purified. It washes away the stiffness that accompanies egocentricity. Pure devotion itself can be a cause for realization. We should all engage in such holy activity, embodying the Precious Guru. Then, washing the feet of all sentient beings, we will finally understand our own true face.
© Jetsunma Ahkön Lhamo