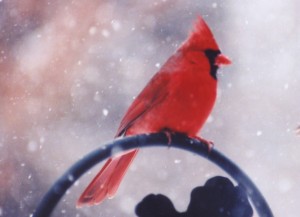 A red Cardinal sits on a snowy Pine bough, all fluffed up, right outside my window, looking in. Bet he's cold. When I see nature in it beauty and suffering, I think of the Bodhicitta. How pith. How essential. There is no Enlightenment without it.
Often we see Dharma students discuss, pontificate, and indulge in masturbatory mental games. What a foolish waste of time. To give rise to Bodhicitta even if there is no knowledge of Sutras, Tantras, to offer one prayer, one crust of bread, one mantra is so precious…To save the life of or bring comfort to one sentient being is so much better than to love to hear yourself talk about Dharma.
When I see this Dharma-babble amongst those who do only that and have no heart for Bodhicitta, I feel sick and sad. How pitiful! We are taught "Like going to a continent of Precious Jewels and coming away empty handed. How pitiful!" They miss the point.
What benefit is there in a good old boy's Dharma club where you sit around and compliment each other's meaningfulness? A joke- And an unfortunate display of the shallowness of one's practice. Everyone sees the shame of it except for the "fool on the hill" shouting. What ego, what pride, what ignorance drives one to distort the Dharma and its true value that way? Self cherishing, at the expense of others.
Give me one honest follower with a good heart, respect, compassion, and willingness to learn new and grow. I will do anything for that one. Show me a dried up bitter heart without Bodhicitta, and a rigid mind claiming to know Dharma- 'scuse me while I laugh. And those who do more proclaiming their own glory in as many religious costumes as they can collect? What is the use?
When I'm not teaching I wear American clothes. Jeans. If my students cannot see me as Primordial Nature, well- there's work to do. Dharma is unelaborated, uncontrived, free of conceptualization just as it is. Quit talking and judging and heal the heart. Thrill me.
Copyright © Jetsunma Ahkon Norbu Lhamo.  All rights reserved