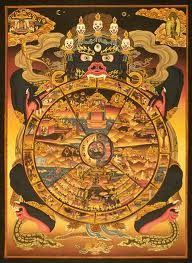 The following is an excerpt from a teaching by Jetsunma Ahkon Lhamo offered during a Phowa retreat:
When you think about the suffering of sentient beings, when you think about those that are in the hell realms suffering horribly, is there a part of you that wishes you could do something to liberate them from the hell realms? That wishes that you could pass your magic wand and have them be free at last? Is there a part of you that hears the story about the hungry ghosts and thinks, "Oh my, how can I nourish them? How can I give them milk? How can I make them not suffer like that? How can I help those sentient beings that are about to fall into that condition by asking them or encouraging them to turn the way their minds work?" Do you feel any compassion like that? Is there any part of you that wants to reach out to them and help them? When you hear of the suffering of human beings, when you hear how many times human beings come into the same realm with the very teaching that will bring about the end of their suffering, and yet due to their doubt do not participate in that teaching but walk away from it empty handed, do you wish that you could change that? Do you wish that you could help them to see the truth before it's too late? Do you wish that you could help the jealous gods and the gods and goddesses of the god realms? Do you wish that you could open their eyes so that they will not be so drunk with their own habitual tendencies, but rather so that they will see the benefit and impact of practicing Dharma? Do you wish that they could use the time that they have right now in order to be free of suffering? Do you wish that you could liberate all sentient beings including yourself from suffering, that suffering would no longer be heard? That the very word of suffering, the very name of death would never be heard in our ears again? Do you wish that you could do that? Is there any part of you that responds to that? Yes? No? Is there some part of you? Then hold onto that part of you, because that is the part of you that is the most precious possession that you have. Hold onto that thread. It is the very thread of life. It is more precious and more important than any other thought that you have or have ever had. And it is the only pure thought that you will ever have during the course of your life until you achieve liberation.
This is the very method by which one gives rise to the bodhicitta, the very method by which one accomplishes. I tell you that you will not accomplish Phowa successfully, you will not have the promised signs that everybody's waiting for, if you do not first give rise to the bodhicitta based on the understanding of what sentient beings in cyclic existence suffer. So you must give rise to this. It is the foundation of the Path. Without the milk of kindness flowing through you, without giving rise to compassion, there is no method and therefore there is no result. So that is why this preliminary teaching, although it is general, must be included with the Phowa.
Copyright © Jetsunma Ahkon Norbu Lhamo All rights reserved