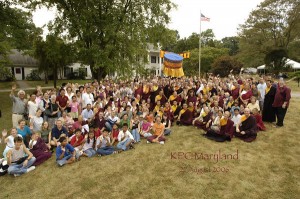 The following is an excerpt from a teaching by Jetsunma Ahkon Lhamo called "Essence of Devotion"
When we take refuge in the Buddha, in the Dharma, and in the Sangha, we consider that all of those are equal and they are all one, that they are inseparable. The Buddha, the Dharma and the Sangha are important; the Buddha, because only enlightened method and enlightened presence can bring enlightened result in the same way that apple seeds can bear apple fruit.  Grape seeds cannot. You see?  Enlightened seed will bring enlightened fruit.  So the Buddha.  The Dharma in that that is the perfect vehicle, the vehicle that has proven itself to transport all sentient beings across the ocean of suffering.
The Sangha because, within the spiritual Sangha, once you enter into practice and come into a relationship, which you automatically do by taking vows with your vajra brothers and sisters, at that point you have joined with the Sangha.  The Sangha becomes then a family.
Talk to some of my students and find out what it means to have a Sangha family.  Those of my students who came to the path in a very general way but don't have experience of various sufferings such as the suffering of grave illness, or life-threatening situations or just terrible suffering on some sort of emotional or mental level, have found that the support of the pure Sangha which gathers around them at times like that, and supports them with practice and prayer and help and love and kindness, is absolutely essential.  Without the Sangha we would be incapable of keeping on.  It would be so hard.  It would be like a little sapling trying to survive in a hurricane. The Sangha is rich with that kind of support and help. Furthermore, it is the Sangha's responsibility to propagate the Dharma. So the Sangha are considered to be an object of refuge, particularly those with robes and particularly also those who have taken the Bodhisattva Vow because, having taking the Bodhisattva Vow, we can see that they intend to benefit us. Therefore we can rely on them for secure friendship and not betrayal as in ordinary friendships. So the Sangha becomes very precious.  And that is the taking of refuge—the Lama, the Buddha, the Dharma and the Sangha.
As for the Bodhisattva Vow, it is said that when one receives the Bodhisattva Vow, if one were to remain secure, absorbed, with a mind spacious and relaxed, absorbed mentally and emotionally and spiritually within the taking of the Bodhisattva Vow, that is to say, extremely mindful,  right there with it on a very deep level, appreciating and understanding and grieving for the suffering of sentient beings, as well as our own suffering, and seeing them as being non-dual and longing to help… You look at an AIDS march on TV and you look at people dying and you say to yourself, "Enough is enough!  This is awful.  This is unacceptable." You look at war and you look at the bodies of children laying broken and bleeding in the street and you say to yourself, "This is enough!  Enough, not acceptable!"  You look at hunger.  You look at homelessness. You look at all of it and you say, "Enough!  Enough!" To remain absorbed in that, to understand that this is the fate of everyone who is in cyclic existence without the method.  To remain absorbed in that, it is taught that, in that moment of absorption, if one were to give rise to such a depth of absorption that tears would come, then at that moment of absorption, you have removed 10,000 years at least, many thousands of years of gross karmic negative obscuration because, for that 10,000 years or however many lifetimes, we have been absorbed in ourselves. Self-absorption—I am!  I think!  I feel!  I will!  I must!  I need!  I have to have!  I'm like this!  We still are like that, aren't we?  We still do that.  But that one moment of absorption in compassionate activity, with pure intention serves to purify so much of that, and gives us the method by which we can continue to remove all subtle and gross obscurations until we at last are free, and until we at last are able to return, ennobled and finally capable of leading others toward Dharma and making for them the auspicious connections so that their days of suffering, while perhaps not immediately over—well it won't be like flip a switch and everybody is happy, I wish it were like that—but their suffering days, because of your absorption and compassion, are now numbered.
There are many students, of course, who have a connection with me and I will do my best. I will return life after life, not caring whether I am tired, not caring anything.  This isn't just my idea. All the teachers, all the lamas, all the reincarnate lamas, those realized ones, will return without thought for themselves, until the very last one of those sentient beings with whom they have a connection, is finally liberated.  If they have to return even a hundred lifetimes for that very last one, they will.  I will.
Now if you take a similar vow, even if you can't fully practice it, even if it's just the first baby steps, there are those with whom you have a connection and I don't have a connection, and neither do any of my teachers or any of the teachers who are able, but you have a connection to them simply through ordinary means.  They were your mother in some previous life.  Who knows?  You could have been a cockroach.  Some funny little corner in obscure reality where you have a connection with uncountable beings that no one with any realization has a connection with.  Do you know what that means?  You are their only hope and object of refuge.  You are their only hope.  So you must take this vow with complete absorption and think that you are taking it for their sake, for their sake, because they are waiting for you. And the moment that you take this vow for the first time with complete absorption and every time therefore that you continue to remind yourself and freshen that vow, their days of suffering are finally numbered.  So at that point these teachers all begin to nag a little bit and they say "Hurry.  Hurry, because they need you and there is no one else."  So you must hurry for the sake of sentient beings. You must.
There are 3,000 myriads of universes, uncountable lives, connections that must be made and you should pray every day of your life, "Whether I have a good or bad connection with every sentient being, let it bring them to Dharma.  Let me find a way to be connected with all sentient beings and let me never pass into nirvana until they are all free."  This is our prayer as a Bodhisattva.
Copyright © Jetsunma Ahkon Norbu Lhamo.  All rights reserved