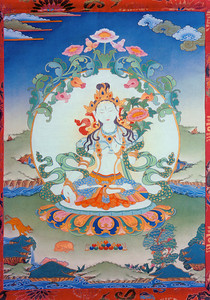 An excerpt from a teaching called Bodhicitta by Jetsunma Ahkon Lhamo given after her return from India and Nepal in 1996
In Nepal, right next to one of Guru Rinpoche's caves where he practiced chemchok, lives a wonderful Dakini.  She is the consort of Lama Tulku Orgyen.  And she's been there for years and years, practicing and practicing.  We had the pleasure of meeting her.  Whenever you go there, you can hear her ringing those bells and practicing.  She never stops.  She's so beautiful. She's actually kind of old, but when you look at her, her face is completely unlined, she's got beautiful black hair and really deep eyes.  She's just gorgeous. We went in there and gave her a scarf and tried to do prostrations, but she wouldn't let us. Sangye Khandro came with us to translate, since the Dakini doesn't speak any English, of course.  And she just practices all the time. She sat us down and we talked for a little while.
I told her that we have a Sangha here and that a large percentage is women.  And I said, "Would you give some advice to women practitioners in the West?"  She said first of all that there's no difference between women and men practitioners.  There is no difference.  Women tend to think that they are held back by certain issues – family issues, lover issues, blah, blah issues, stupid issues.  There is no difference between women and men.  In fact, she said, women actually have a deeper sense of primordial wisdom.  They are closer to that Dakini archetype.  They have a deeper sense of that.  They're more internal in some way.  She said women have an excellent chance to be practitioners.   And she said, "I would give this advice to both men and women equally.  You have to be courageous.  You have to never stop.  You have to decide that you are going to achieve the rainbow body and you will do whatever it takes because you really want to incarnate in such a way that you can help this world or any world that you land on.  You have to have courage.  You have to never let any circumstance stop you.  You have to practice as though it's the most important thing in your life.  You have to remember that this is the only important thing there is."  And she said, "Practice constantly with great faith and great courage.  Then you need to be sure that you are with a teacher that you have absolute faith in.  And you need to be with a lama who can give you initiation that can ripen your mind.  With all those factors, especially great courage, you can make it, even in this degenerate time." She said, "You can make it."
It was one of the most moving speeches I ever heard.  But she kept saying, "Have courage; don't stop.  Break through whatever stops you.  Have courage."  And my feeling when I watched her is that it must have taken tremendous courage for her to completely renounce the world that she lived in.  She is right up there in that little building right next to the cave.  It's one room.  She's got thangkas and rugs, it's kind of nice, but there is no place to go to the bathroom.  You have to wash out of a bucket.  She has renounced the world and all the stupid trappings that go with it.  She's going to make it.  When that Dakini dies, you are going to see signs and they'll find her again when she reincarnates.
Copyright © Jetsunma Ahkon Lhamo.  All rights reserved