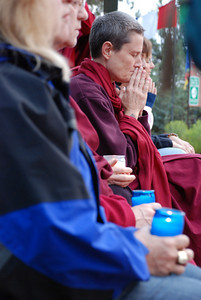 An excerpt from a teaching called Dharma and the Western Mind by Jetsunma Ahkon Lhamo
I think a difficulty that Westerners have is so much input and so many different kinds of teachings.  Do you remember the first time you ever heard anything metaphysical? I don't care if it was about flying saucers or about ghosts or whether it was the first time you picked up the Ouija board or did something weird like that. The first time you did anything that was metaphysical, you thought, "Hey I am on to something, this is it" and you got really excited and that excitement was a real joy to you. But haven't you noticed that as you continued to go on this path in this direction you became less and less excited each time and finally you became a little cynical, and then suddenly you are just cool, "I've heard this before."  When you start getting to the point where you say I am cool and I have heard this before, you are dead.  That is real cool.  That is about as cool as you can get.  But the problem is that most Americans are like that.
I find that when I teach new students the first thing that I have to do is a little razzle dazzle. Why? To get their attention.  We have heard so much stuff and everybody has got a sales pitch.  Of all the nations on earth this has got to be the nation with the most salespeople.  Of all the nations this has got to be the only place where everything gets sold, no matter what and you get to pick and choose no matter what and there are four different varieties.  It is almost a sickness.
It is a problem because now we are presenting Dharma, which is an ancient path, it is a path that describes supreme enlightenment, it is a path, which lays out the technology of supreme enlightenment, and it does it very well.  It does it consistently, and it does it purely.  It has done it in the same way for such a very long time and it has had proven results.
We even have stories of people who have practiced Dharma who have achieved what is called the rainbow body and have incredible miraculous signs at the time of their death. We think,  "Make me a believer, I dare you."  We think like that and we act like that and we hope that someone will convince us.
I have found that another problem with Westerners is that we become a little hard.  I love you desperately, this is not an insult but we are a little cynical, a little hard to please. We have to have a certain percentage of entertainment value while we are being taught the Dharma.  I understand that but it's a hard row to hoe.
Finally when we get this fire, this incredible love, this feeling that we only want to live this courageous life in order to benefit beings then we are okay but it is hard to get our attention and so this is another thing that I wish you would examine: how much you have been exposed to many different kinds of spiritual thought, and how many things you have been excited about that if you went back and examined, you would find were a puff-ball.  How many different systems have you thought, "Wow, this is exciting, this sounds right" and then you go back to it and you ask and find, "Who is it invented by, nobody; nobody that knows anything." And nobody that got anywhere, anyway. Where did it come from, you can't trace it back, you can't figure it out.  Did it come from the mind of supreme enlightenment, maybe not?  If you go back and see the things that you got excited about you may find that from time to time you have been a little duped.
Mom told us that we would be happy if we did this and this and this.  The old idea about being rich, marrying a doctor, having children and dressing them nicely and wearing Polo shirts and Carter's underwear; if you get all these things right then we will be happy.  We have become disappointed because we did everything correctly.  We got educated and we got a little prosperous. We have a Crock Pot; there is a chicken in it that, even as we speak, is overcooked.  We did all of these things and in mid-life we have a crisis.  It is so normal in our society that we write books about it.  The 'Mid-Life' crisis, the one you are bound to get to. It is weird if you think about it.   We tried all these things and we are not happy any more and we never were happy and it didn't work. Basically what has happened is that we have become cynical and we are afraid to try.  We are one culture that has a particular problem: we are not believers actually, we are afraid to try. We say, "I have heard this and I have tried this.  I am not going to do anything hard.  I am going to get by and then I am going to die and that is how I am going to work this thing out."
I find that Westerners have a tremendously hard time with the idea of making a real commitment with their lives, saying "Okay I get it." I see that everybody is suffering, I see that there must be an end to suffering, I see that desire may be the cause of suffering, I see all of these things and I now understand the nature of emptiness.  Maybe it isn't so dark and bleak and horrible.  Finally I can see where practicing Dharma would be right, I can see where this is what you should do with your life."  But that moment at which you say, "Let this life only be a vehicle in order to practice Dharma, let that be the value of this life, let that be what I do" and be really courageous about it; that is hard for us.  We have a hard time. Understanding that the real value of this precious human rebirth is that we can accomplish a path to supreme enlightenment is a little difficult for us to get inspired about in that way.
If we could devise a way to help us to be less in love with what we should collect in our society, and how to be prosperous and have meaning in a material society, if we could become less involved with that idea and more involved with understanding the really important factor – the way in which we cultivate our minds and practice a proper technology to accomplish a pure and awakened mind state.  The point is to be of benefit to beings, to be awake as the Buddha was awake so we can bring about the end of suffering for ourselves and for all sentient beings.  The moment that which we discover this and it becomes meaningful to us we also need to divine a way to accomplish it.
©Jetsunma Ahkön Lhamo