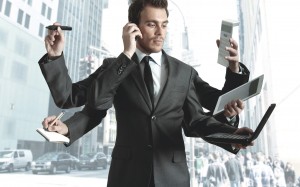 The following is an excerpt from a teaching by Jetsunma Ahkon Lhamo called "The Habit of Bodhicitta"
There's a funny thing about the human mind that we don't realize. Do you know how in your mind you think you're concentrating on a million things at once? Some of you can chew gum, watch TV, listen to the radio and write in a book at the same time. I've seen people do this. It's amazing. I have a son, oh, my god, you can't believe this son. It looks like he can watch TV, listen to the radio, talk and really carry on a conversation, dance while he's talking, and if he knew how to fry an egg, he could probably do that at the same time. I mean, talk about a Mongolian juggler. Each of us feels likewe can do so many things at one time; but what we don't realize about the human mind is that's not true. It can only do one thing at a time. But what happens is that we do these things in such rapid succession, that if we think about ten things at once, it feels like what is actually happening is that we are thinking about this, switch to this, switch to this, switch to this, very quickly; and our minds actually become inflamed and agitated with the switching from one picture to the other. That's why it becomes valuable and precious to meditate on bodhicitta and to practice bodhicitta. Because while you are practicing bodhicitta, putting your mind in this pile, while you are doing that, no matter how simplistic it is, even if it's just opening the door for somebody, while you're doing that, you aren't doing the other thing. And the great thing about the human continuum is that if you aren't continuing it, it doesn't continue.
The funny thing about continuum is that it loses its definition, its essence, if it's not being continued. So we are taught to practice kindness and to begin where we can and to increase it moment by moment. Because while you are doing that, you can't be doing the other. But believe me, when you are not doing that, you are doing the other. You are doing the other. So the bodhicitta becomes now not a great mystical attribute that we all hope we are going to get, it becomes a remedy. It becomes a method. It becomes an antidote. And you should see compassion as an antidote. There is no excuse, none, for you not to start right now. And you can't get into what is kind of like the diet syndrome with bodhicitta. I don't know how many of you have actually been on a diet, but if you're on a diet, you're like this: You go through, ok, a thousand calories a day. So you're making your little chart and you're eating your boiled egg or whatever it is, celery and ice or, whatever horrible thing they are making you eat. And then at one point during the day, you just can't stand it and you go back to the old habit and think, 'Ok, I've eaten celery all day, now I'm going to eat a piece of chocolate cake.' What happens in our minds is that we think, 'Now I'm off my diet. And it doesn't matter.' Well, you can't have that kind of diet mentality with your bodhicitta. For instance, if you practice bodhicitta for a good period of time and suddenly you blow it, not only blow it, blow it big time, you know, I mean, big time, you really blow it, then you think, 'I'm not a compassionate person. I'm not good, I'm bad. It's gone for today. I'll try maybe next week sometime. I'm hopeless. I'm helpless. I've blown my bodhicitta diet.' You begin to form all these exaggerated conclusions based on what has just happened.
If you could approach yourself in a relaxed way, moment by moment, and you did practice bodhicitta for a certain period of time, then when you really, really blow it, there would be no inner tension to prevent you from simply going back to the bodhicitta. What you've done is expressed both of your habits, your new one, which is difficult, and your old one, which is easy and you can fall into it any time you don't practice your new one. It doesn't mean anything. It only means that you're expressing both habits and at every given moment you have a choice. You can practice bodhicitta the very next moment right after you've blown it. And you should, because the best way to prevent blowing it again is to climb right back on that horse and make restitution. That's the best way, to get right back on it. If you don't' do that, you carry a tremendous burden as a spiritual person, the burden of hypocrisy. You feel like a hypocrite. You feel like you've really messed up. You have this idea that you've been kind and then this monster in you comes out and then you're faking it again. You can't think like that. You can't think in terms of good and bad, high or low. Think in terms of habitual tendency. Give yourself a break. You have both. Accept it now. Accept it now. And this way, no matter what happens, you're not going to have to think something vile about yourself. And you have the freedom to make a choice at any moment.
My recommendation is that should you begin to practice bodhicitta and find it extremely difficult, do not form conclusions about it. Only continue. The only conclusion you should form really is the one that I'm giving you: That's my habit. I understand that about myself. I accept. And I accept that I can change it, little by little. And it's hard. It's all right if it's hard. One day at a time, you know?
Copyright © Jetsunma Ahkon Norbu Lhamo All rights reserved