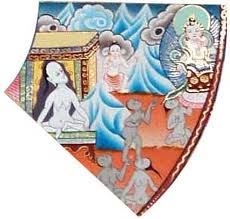 The following is an excerpt from a teaching by Jetsunma Ahkon Lhamo called "Why P'howa?"
The next of the lower realms is the realm of the hungry ghosts. The hungry ghosts actually have a traditional appearance and they are described in this way, but again you must understand that this is us looking with our eyes that are born having to distinguish between subjective and objective. These are the eyes that are born in the realm of duality,. So keep that in mind when their description is given. The description is that of beings that have ver,y very, very tiny mouths—they are said to be about the size of a pin, just a tiny opening—and great big stomachs; and these stomachs are empty. They are not able to take in the amounts of nourishment that they need. This is the picture that we are given. The reality of the realm of the hungry ghost is that they experience extreme need, extreme hunger, beyond what you feel when you have Big Mac attack. Way beyond that! We are talking hunger like you have never felt. It is a different color of hunger entirely. Have you been real, real hungry? Have you never been real, real hungry in your life? I've been real, real hungry in my life. I've been real, real hungry in my life, and I remember how that felt. I remember being so hungry once that I could feel my blood sugar doing wacko things, and I actually had the feeling of panic. I was that hungry that you feel panicky because your body is just telling you, "I need food now."
So you imagine that there is that kind of hunger, with that kind of panic and need times more than you can ever imagine. That would be the feeling of a hungry ghost. It is extremely needful. Now you say to yourself, "Please, I worked out my whole life and for me to be reborn with a tiny little mouth and a big, big belly like that, that definitely is not going to happen to me." So you think that that's not going to happen. Well, you have to examine yourself from a different and more subtle point of view. Let me ask you if you have ever gone through a period in your life when you were extremely needy. "Oh no, not me." Right? Extremely needy? For women that happens at least once a month, right? And for men I think it happens about every 48 hours. Now they get needy in a different way, but it's basically also, "Do you love me?" We have within our mindstream the potential for tremendous neediness and graspiness.
O.K., this is a little bit less painful. Have you known a person in your lifetime that was compulsively, neurotically, unsatisfiably needy? Have you known a person like that? Haven't you had from that person the feeling that this hole is just too darn big to fill? You feel like you're throwing it in and throwing it in and throwing it in and trying to love and trying to give them something, and they're still whining. It never ends; and you spend the rest of your life doing this and nothing happens. The hole never fills up. Well, that is the kind of cause that results in a rebirth as a hungry ghost—a person whose habitual tendency is simply wrapped around self-absorption and what they need. I need, I need, I need. Can you gimme, gimme, gimme? They see every other being in their life as a prop, a prop by which they can achieve satisfaction. They use people as props in order to achieve satisfaction. You know we've all gone through periods in our lives when we've done that. Haven't we? Absolutely. We have used other people for our own satisfaction. Absolutely. And for many of us, we made careers out of it. Right? And maybe still, maybe still. We have seen how people can wrap their whole lives around graspiness and neediness; and every time they meet with somebody it's like you can hear the suction. You can just hear it. You feel like the blood is coming out of your pores. And that's the kind of person you instinctively stay away from because, literally, you can feel your energy being sucked into them. Haven't you felt that kind of thing? You can feel the energy being sucked into them,. And it's true. If you could see it with different eyes, your energy would be sucked into them. That's true. That kind of cause, that kind of habitual tendency that the person might experience, or if it's you, you might experience, would result in rebirth as a hungry ghost. Particularly, also, it is the kind of person who is against and has no compatibility with compassion and generosity. The person who is chronically, without hesitation, selfish to the bone.
Now you may think, "Are there really people like that?" Oh ho ho, yes! I'll tell you , this story briefly. In New York once, I went to give a teaching. I remember walking into the room and thinking "Oh, no," because, you know, a lama does develop the ability to sort of intuit who we're talking to. And I remember walking into the room and going, "No-o-o!" because I could see that it was going to be very, very difficult. And sure enough, here we were in New York and I was talking about the most benign… I wasn't talking about hell realms. I would never be dumb enough to talk about hell realms in New York! You guys want to hear that you have to come to Poolesville! So anyway, I was talking about the most benign and charming—talk about white picket fence!—subject that you could possibly think of. Kindness. Talking about Bodhicitta. I was talking about how, in the most fundamental way, kindness makes one feel. Really, being kind to others makes one feel better. I was talking about how developing the habit of kindness brings this result, just kindness. I was talking about Bodhicitta being consistent with our own nature. I swear to you not one, but on different occasions, three women stood up and argued with me about the validity of kindness. One woman in particular said, "This is ridiculous. Kindness has no place in my life. I mean you have to get what you want! I don't see the point of what you say. This is whoosh. Tell me something real!" That is literally what happened.
I remember just feeling this compassion for them, for what can the result of that be? What do you think their next experience is going to be like? Do you think they're going to fall into the lap of mother love? Do you think that kindness is going to be just heaped on them in their next life? I don't think so. I don't see how that's going to happen. So these poor people are up against the wall and they don't even realize it. And in her haughtiness she defended what was going to make her suffer horribly. So you see there is that kind of thing operating in the minds of sentient beings. There are some people that categorically refuse and reject the idea of kindness and benefitting others. In fact, that is not consistent with all of the world religions. We should take equal responsibility with ourselves as with other sentient beings.
There are even types of teaching that the Buddha has taught that are meant for that kind of person who cannot appreciate compassion, who are not even set up to hear the word compassion. The Hinayana point of view: Yeah, we're taught to be kind to others, but not in an active way. We're taught to do no harm. That's different from saving sentient beings from suffering. So there are sentient beings that have no capacity for kindness or generosity, you see? And so the result of that kind of mental state is to be reborn as a hungry ghost, experiencing only need. Only being able to experience that which comes toward oneself, literally not having the chip, the computer chip, to be able to send out. It would be like a computer that has no printer. Everything happens internally, in a way. Do you see what I'm saying? Nothing goes out. This person is not wired to send out anything, and that comes through having only the habitual tendency of self-absorption and selfishness. The result is life as a hungry ghost. In the hungry ghost realm, it isn't that there is no food. It is that they are so weak because of the habitual tendency of their mind which has produced this weakness. Their arms and legs are like threads. They cannot get over to where the food is. They cannot get there. The only thing big about them is their stomachs. And even if they could get there, their little mouths would not be able to take in enough.
Plus it is said that even even if they do see some food, they cannot get to the food; and if they somehow manage to get to the food, it then will turn to… Here is a glass of water. I have the karma for this water to refresh me. Water, little bit of lemon, pretty good. If I were a hungry ghost in the hungry ghost realm, even if I were able to make it to that water (and I would feel the need for it very strongly), the water would be like a glass of pus or something, horrible and repulsive, literally, sewage or something horrible and repulsive. It would turn to that before you reached it. And that's because of the habitual tendency of our mind. How different from sewage is the need to only satisfy oneself and not care at all for the condition of other sentient beings? To take from others and never give. How different is that from sewage? You see?
Copyright © Jetsunma Ahkon Norbu Lhamo All rights reserved