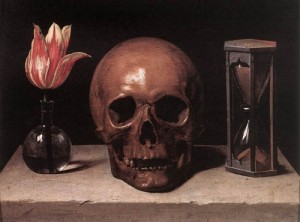 An excerpt from a teaching by Jetsunma Ahkon Lhamo called "Stabilizing the Mind"
Do you really understand why you are practicing Buddhism?
Ultimately, when you come to understand what the Buddha and all the great lamas have taught, you will come to understand that it basically boils down to the fact that all sentient beings are suffering, that desire is the cause of suffering, that there is an end to suffering, and that end is enlightenment.  There are different ways that you can attain enlightenment, but they all have to do with ending attachment and desire in the mindstream.  They have to do with realizing that one's nature is not the same as the conceptual proliferations that we live with, the desire that we live with, and the ego that we perceive as ourselves.  I really think that once you understand enough so that you can look at your life – with all its emotional highs and lows – and realize that it is impermanent, that you're just riding on your own concepts and that by doing that you can't make your mind stable enough to break free of the compulsion to revolve in cyclic existence for eons and eons that awareness becomes the taskmaster.  That realization becomes the teacher.
If you don't realize that circumstances are impermanent, if you're practicing because you have some crazy idea that you're going to be a great being some day or that you're going to triumph in the end, and that it's all about self and self-cherishing, if you have some romantic notion about ordination or about practicing at all, you won't be stable in your practice.  Understanding the teachings about impermanence is the stabilizer, the real teacher.  Understanding from the depth of your heart that desire really is the cause of suffering is the taskmaster.  Looking at your mind in some stable way so that you can understand that the mind just floats helplessly, constantly, on its own concepts, whichever way the concepts go, up or down, and that these concepts are the cause for suffering and that there's no lasting happiness in them, gives you a firm foundation.  It is then that you understand why you practice, and although the circumstances of your life may change, you will never turn away from practice.  You may go to work or you may stay home; you may have children or you may not; you may take robes or you may not. Whatever the circumstances are of your life, as long as you know these things, you will remain firm.  Your infatuation with the culture, with the music, with the color, with the ritual of Tibetan Buddhism will never be enough.  You have to understand the heart of the Buddha's teaching.  You have to understand the value of compassion.  You have to understand how important it is to end suffering and what the means are to end suffering in order to stay with the Dharma, in order to be stable and safe in the Dharma.
Copyright © Jetsunma Ahkon Lhamo.  All rights reserved