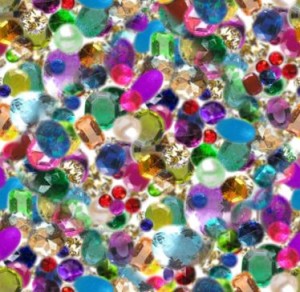 The following is an excerpt from a teaching by Jetsunma Ahkon Lhamo called "Commitment to the Path"
When we practice the Buddhadharma, one of the first things that we have to do is to examine the faults of cyclic existence.  Nobody likes to do that.  That is not fun.  But what is interesting is you can really tell the more experienced, more sophisticated person.  Nobody wants to hear that cyclic existence is faulted and flawed and that it is impermanent and that it is pervaded with suffering.  Nobody wants to hear that.  But when you talk to somebody who is experienced and sophisticated enough in their own lives to see that: "Sometimes I've tried my best and life still goes off the tracks.  You know, sometimes I try my best and some dreadful disease will pop up.  Sometimes I try my best and somebody else I love will just leave or be sick or die," There is no way to prevent these things from happening.  And if we are old enough and mature enough, we've had enough experience to know there is clearly something else in the driver's seat here besides what "I want."  We're getting it.
Then, of course, sometimes when students first approach the path, they don't have that sophistication yet.  Maybe they are young or young at heart or young in head. Who knows? But they haven't had the kind of experience that is actually ultimately a blessing, that will bring them to a kind of sobriety, sort of like recovering alcoholics.  They get to a place where it becomes unbearable.  You have to stop.  You've got to grow up.  People who have had the experiences that come with ordinary samsaric existence and have seen them, and are not putting on blindfolds, are for the most part ready to hear this information.  And if you still have any doubt, pick up a newspaper.  Watch TV.  It's all there.
So once we do hear that there are faults in cyclic existence, then it's our job to begin to examine them.  Again, here, also it's not so comfortable, because we don't like to think about it.  Especially when you have to go every six weeks and have your hair dyed.  I mean, you look in the mirror and everything is turning gray and it's all heading south, and you realize that something is happening that is not changeable.  It's just going to happen.  It's going happen right underneath your head.,and there's not a thing you can do about it. You can work at it, but it's going to work on you.  Eventually gravity wins.  Once you start to realize that, you realize that it doesn't pay to put everything we have into this basket that is going to abandon us.
So now we come to examine the faults of cyclic existence.  Lord Buddha said that one of the things that we should understand about cyclic existence is that what we are in right now is called the "precious human rebirth."  The reason why it is so precious is because it is so rare.  We're sort of locked into a closed circuit TV system, if you can imagine such a thing.  We're only mindful of our own kind of creatures.  We can see people.  We can see animals.  That's pretty much it— the occasional ghost for those of us who are a little strange—but for the most part that's it.  It's people and it's animals.  Those are the ones that we can see.  Those are vibrationally on our channel, so we can see them.  But Lord Buddha teaches us that there are other realms of cyclic existence: There are hell realms, all kinds of hell realms;  there are hungry ghost realms;  there are animal realms; there are human realms; there are jealous god realms; there are long life god realms.  So there are all these different kinds of realms and they are invisible. Even within each realm, while some are totally invisible to us, they are still within the form and formless realms.
The teachings of Lord Buddha about this precious human rebirth are that human beings are the only beings that have the kind of consciousness that can hear this teaching and then go practice and contemplate,.  The amount of human beings that are birthed now in samsara are like the amount of grains of sand that would fit on one's fingernail, while the amount of sentient beings that are wandering in other places in samsara are like the grains of sand on all the earth, all the beaches, every square inch of it. The traditional teaching tells us by using the image that being reborn as a human being is as rare as a turtle surfacing in the ocean and putting its head through a circle, like a floating circle.  The chances of that happening are pretty slim, and so that is the way we are made to understand that this is a precious human rebirth.  Now why are we supposed to hear that?  Well, we're supposed to hear that so that we don't waste our time.
Another traditional teaching that we hear is that being reborn as a human who has the capacity and the karma to hear the Dharma is like going to a continent filled with precious jewels.  You only have to bend over and pick something up.  That's how easy it is compared to other sentient beings who have not created the connections, not created the causes as yet. And while they have the same capability and same desire to be happy, they will not get to that continent.  They will not pick up that jewel. Conversely, the Buddha also teaches that to meet with the Dharma as a human being and to meet with one's teacher and to meet with the path and not to practice is like the fool who goes to this precious continent, looks at all the beautiful colors and enjoys it and then goes away with nothing, going back into poverty with nothing, nothing precious.
Copyright © Jetsunma Ahkon Lhamo.  All rights reserved