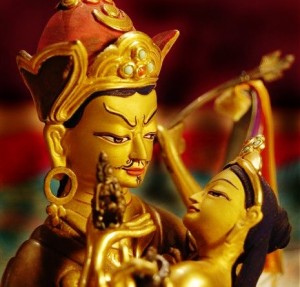 The following is an excerpt from a teaching by Jetsunma Ahkon Lhamo called "Guru Yoga"
One of the main practices that we have to do in order to make progress on the path is Guru Yoga.  There are many ways to practice Guru Yoga. There is a tremendous focus on Guru Yoga in the preliminary practice or Ngondro phase, and then as you move into the different forms of practice in the intermediate and advanced stages, there is still a great deal of focus on Guru Rinpoche, and there is still a great deal of dependence on the Natural Blessing that is transmitted from his miraculous compassion.
Guru Rinpoche is considered to be the Nirmanakaya form, that is the body or the form that one sees in physical existence.  He incarnated into physical existence, and when he appeared on the earth, he was in solid form.  According to the history of his life, he was not born.  He did not have a mother.  He appeared in the middle of a lake on a lotus and he did not appear as an infant, but as a young child.  And when he left, he didn't die; his body didn't cease to function.  He was seen to rise up into the sky and leave.
So his activity, his display, is considered to be extraordinary, not  ordinary.  It isn't like what we usually see.  We do not usually see that kind of event.  None of us has managed to be born on a lotus in the middle of the lake.  Most of us have mothers. I have a mother.  If any of you don't have a mother, please let me know.  I'd like to meet you, get to know you.
Probably, when we die, our bodies will do the ordinary thing which is "die."  Perhaps a few of us will do something wonderful, but my guess is that we'll die.  It's very rare to be born as a young child on a lotus, or rise up into the sky and leave.  We don't usually see that kind of display.  And so from that, we can understand that he is, in fact, the physical display of enlightenment.
It's so easy for us to look at Guru Rinpoche, to think about his teachings, to think about what he has accomplished and think, "Oh, there was a great man that was born sometime, and he did this thing", to think of Guru Rinpoche in a superficial way.  So when we practice, our practice is deluded really, and it's kind of confused or even defiled, if you will, by our thinking, "What kind of man was he?  What was he really like?  What did he look like?"  I look at his statue and I think, "Gee he had a funny little mustache."  We have those kinds of thoughts.  We can't help but think like that.  We think as ordinary people do.  We look at each other in ordinary ways.  We've learned to evaluate things in that way.
If we hold Guru Rinpoche in that regard, we miss the point.  We think of a being that's much like an ordinary being.  We think of an event that is not so different from ordinary events.  Man goes to Tibet, man teaches. Well, that's happened before!  So we don't understand.  We're very shallow in our perception.  And what happens then is that the transmission that comes to us, the blessing that comes to us through faith, the blessing that comes to us through practicing Guru Yoga is very minimal.  And in fact, it's an ordinary blessing.  It is the ordinary blessing perhaps of having the opportunity to practice, and of actually having the practices in hand so that we can do them.  Well, you could say that's not exactly ordinary.  Lot's of people don't have that blessing.  And you're right about that.  But it's a limited blessing.  What we need beyond this opportunity,  beyond the practice, is the ripening.  And in order to have that, we must begin to understand the Nature of the Lama in a more profound way.
Copyright © Jetsunma Ahkon Lhamo.  All rights reserved