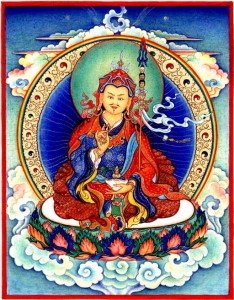 The following is an excerpt from a teaching by Jetsunma Ahkon Lhamo called "The Guru is Your Diamond"
How do we use the Guru Yoga as this rocketship? How do we understand the way it is used? Well, first of all, if we look at the Guru Yoga in our Ngöndro book, the prayers are achingly beautiful. The tune, Lama Khyen No, that beautiful tune… You could almost hear it being sung on misty mountain tops. There's something about it that's just so haunting. And you get the idea when you're doing this practice that it's kind of geared that way. It's geared to bring tears to one's eyes. It's geared to create an interdependent relationship that's so intimate, it's more than what we are accustomed to. We wouldn't take an ordinary relationship and sing Boyfriend Khyen No, (laughter) Girlfriend Khyen No. We wouldn't do that. And why? Because there wouldn't be any result. You might as well twiddle your thumbs. There just simply would be no benefit.
We are given this method and it should cause us some benefit. Why? Why is that? Because we are opening the eyes of recognition. What is it Lord Buddha said when he was asked how it was he was different? He said, "I am awake". Awake in recognition. We are opening the inner eyes of recognition to understand the difference between the precious connection with one's Root Guru, the ultimate nature that we share, that we depend upon utterly, and what is ordinary. You know, the stuff we get lost in so easily.
We have this single-pointedness that we can whip ourselves back to. That's how we use the Guru, when we get lost and wobbly and we're kind of out in space… You know how we get—the noises in our head and everything. We get lost in that. We can use the Guru as our centering back to the single-pointedness. We think this is none other than Guru Rinpoche, the second emanation of Lord Buddha, himself. This is the way. This is that nature. This is what is precious.
Copyright © Jetsunma Ahkon Norbu Lhamo All rights reserved