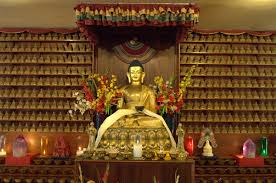 The following is an excerpt from a teaching by Jetsunma Ahkon Lhamo called "The Antidote to Suffering"
The precepts that the Buddha lays down are precepts that are real and workable for everyone. You don't have to be a Buddhist to hold to those precepts—the precepts of being compassionate and the realization that all sentient beings want to be happy, yet don't have the skills or knowledge as to how to be happy. Because of that ineptness at capturing happiness, we often make ourselves stress out.In fact, the Buddha teaches us that all sentient beings are suffering because we don't know how to attain happiness. You don't have to be a Buddhist to notice that these things are true. You don't have to be a Buddhist if you are willing to look with courageous eyes and see that these are so. Also, you don't have to be a Buddhist to use the antidote.
The antidote is purity in conduct. The antidote is purity in practice, whatever your practice might be. The antidote is the realization of compassion. It certainly should be the core of one's life. Of course, the Buddha's teaching is more involved than that but still one doesn't have to be a Buddhist to hold to those teachings. I think they are very universal. So the idea is to have these classes as a way for everyone to participate in what is happening here at KPC. For those of you who may not know, we also maintain a 24-hour prayer vigil here and have been doing that since 1985. There is never a moment in this place when there is not prayer being done. The prayer is specifically dedicated to the end of suffering in all its forms. Our original intention was to keep up this prayer vigil until none of us are here anymore or there is the end of suffering on this planet, the end of war on this planet specifically. Anyone can join in the vigil and you don't have to be a Buddhist to join in. And if you understand that you have the capacity to apply the antidote to suffering and you can do that through sincere practice, through dedication, through compassion and through prayer, then there is no way for you to feel separate from what is happening here. So the original thought about this class would be to present some of the more foundational Buddhist teachings in a way that anyone could apply them and understand them.
The tricky thing about it is that we have both Buddhists and non-Buddhists here in this room. In a way it would seem tricky because if you have been studying here for some time and you've gone on to deeper teachings, specifically to the technology of Buddhism, you've gone on to the method. If you've gone on to the method, you tend to think that you no longer need to remind yourself why you are here in the first place. You tend to think that you have learned already the Buddha's basic teaching that all sentient beings are suffering, that there is an antidote to suffering; already learned that all sentient beings are trying to be happy and that one needs to apply and to live a compassionate viewpoint. But that is not true. That is why you see several of the ordained Buddhist Sangha here and why it is good, even for a long time Buddhist practitioner, even one who has studied in really extensive ways, to come to a teaching like this.
I myself have decided very firmly that no matter how long I teach personally, and no matter whom I teach, whether the people whom I teach are brand new to anything metaphysical or whether they have gone on twenty year retreats, I will continue to teach the basics. I don't know if anyone like that is going to show up here, but even if I had someone like that here in this class I would still always first and foremost speak of the root reasons why you should practice.
Copyright © Jetsunma Ahkon Norbu Lhamo All rights reserved