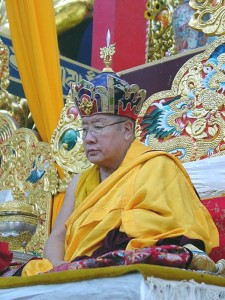 The following is an excerpt from a teaching by His Holiness Penor Rinpoche on Meditation, reprinted her with permission from Palyul Ling International:
This is the root of all the Dharma practices: generating the Bodhicitta [loving-kindness]. If one can really generate genuine Bodhicitta within one's mind, then it is very easy to move nearer to ultimate liberation. Bodhicitta is known as the awakening mind. The awakening mind is without partiality and equally benefits all sentient beings. If we have the thought of doing something good and beneficial only for our families and friends and then we want to create all kinds of obstacles for someone we don't like or whom we consider to be an enemy, this is not Bodhicitta.
Generating Bodhicitta, the awakening mind, is for the purpose of benefiting all sentient beings without any exception. Even living creatures such as ants, in their ultimate nature, they also have the Buddha nature. Even cockroaches. There is no difference in the size of the form. In the teachings it says that there is no limit to space, that space is immeasurable, and similarly there is no limit of sentient beings. Their number is immeasurable. Hence we have to generate the kind of Bodhicitta that is immeasurable for all these immeasurable numbers of beings.