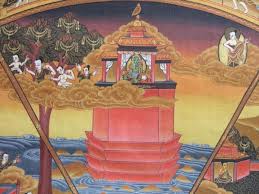 The following is an excerpt from a teaching by Jetsunma Ahkon Lhamo offered during a Phowa retreat:
Now, the next realm of cyclic existence is the realm of jealous gods. And unfortunately the jealous gods have a mixed bag of tricks. The jealous gods are kind of interesting, because in one way they are powerful. They're a little bit like the story of the old Jehovah god as demonstrated in the Old Testament. They're very powerful. They can turn someone into a pillar of salt. They could do that sort of thing. They manifest magical powers, and they are very powerful. There is a certain buzz or excitement or happiness, or something, that goes with that kind of power. You know what I mean? In the experience of the person who is impoverished to the point where they simply cannot do anything, they have no power in their lives. They can't even buy a loaf of bread; they don't have the power to do that. The quality of that person's life is going to be different from the rich person's life where they have the power to get whatever they want. And in the jealous god realms they have a lot of power.
However, the reason for being born as a jealous god is literally competitiveness, egocentricity, and jealousy. And these jealous gods do nothing all day long but what is their habitual tendency: They compete with one another. But when jealous gods compete with one another they don't just try to outdress each other. These guys have power, and they are constantly waging war with one another. The jealous gods are constantly waging war.
There is actually a terrible and immense suffering that comes with the jealous god realm. Even though you know you are powerful, you are powerful in an odd way. Powerful like the person who has built a fortress, an impenetrable fortress, and nothing can come in. Yes, nothing can come in, but everybody knows you really can't build an impenetrable fortress, you see. Everybody knows that. We have it in our minds that we've done this, but it's not true and we know it. Because death can come in, sickness can come in. Nobody can build an impenetrable fortress. So we know this. Their kind of suffering is like that. They feel powerful because they've build this powerful realm; they have this powerful experience and they have this protection.
On the other hand, they also know that there's no such thing, and that the other gods are just as powerful and can come in. And so they are jealously guarding their safety. What does 'jealously guarding your safety' feel like? Is it a happy experience? No, it is an experience of intense suffering, and it only increases the suffering that they feel. It only increases the jealous god's need to go out and attack the other guy, compete with the other guy, and get on top of the other guy. Their experience is warlike. Constantly warring, warring, warring, warring; nobody wins. You win, you lose, you win, you lose. Kind of like that. That is the experience of the jealous gods. They love to dominate others. That's their habit.
In the realm of the jealous gods, they are so concerned with their own safety and jealously guarding their safety, as well as competing with others for that safety, that they have not one moment with which to practice Dharma. Dharma would be to them the same as if you were to, say, talk to a warrior type that was schooled only in being a warrior. Okay, back to Star Trek, whaddya say? Let's say you talk to a Klingon, like Warf, and you say to Warf, "Yo, Warfy-baby, here's what we need to do. Instead of you being a warrior with all your stuff on (you know, he wears all this stuff and looks pretty powerful), why don't you sit down and meditate gently, like a little girl? Why don't you sit down and meditate very quietly, and in that way you can be very strong." What would Warf say about that? Warf would say, "Pleeease!" Warf wouldn't have time to hear about this. Neither would any warrior who was trained to think of being strong and protecting one's turf, and only thought like that. Neither could a person like that ever think that meditation or Dharma practice or anything like that is strength. And so they will push that away, not having time for it. They have to do what they have to do. That's the way that a sentient being in the jealous god realm would think. They simply don't have the instinct and they will not practice Dharma. They just will not practice Dharma. They're too busy.
Copyright © Jetsunma Ahkon Norbu Lhamo All rights reserved