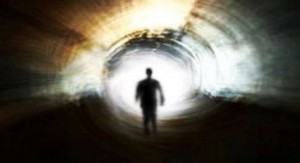 The following is an excerpt from a teaching by Jetsunma Ahkon Lhamo offered during a Phowa retreat:
In the bardo of living, as we enter into life, we receive two seeds. We receive our father's seed and our mother's seed; and those seeds go to make us up. They join together and they make us up.—The father principle or the masculine principle in our physical body actually resides in the top of our heads. That's where the mystical element of your father's seed, that was given to you, the masculine component of your nature, resides as a white tigle, or luminescent circle (if you have to think of it in a physical way, although it's not physical), but a white tigle on top of the head. That is firmly brought to you by the union of the seed between your father and your mother. The mother's seed resides at the base of the spine as a red tigle, and that is the feminine principle within you. No matter what sex you are or what your inclinations are, anything, you all have that. It is universal. We all have these principles, these feminine and masculine principles within us.
At the moment of death, after the outer breath has stopped, when the inner winds are still somewhat moving, (it hasn't totally stopped yet), first the white tigle or the father principle, the masculine principle, will disengage. It will no longer be held, bound, as it was during life by the physical proximity or the physical area, right here. It will not be bound by that. It will disengage. It will simply disengage and fall. And it falls through the central channel to the heart, and there it remains. During the experience of death, what you will experience when that happens is extraordinary white luminosity. White light. If you have been trained to perceive that light through generation stage practice or even through Phowa, you will perceive that light in a welcoming way. You will see that light and know that that light is the very display of all the dakas, or the male buddhas and bodhisattvas. So you'll recognize that light and you will be very devoted, moving toward that light. If there has been no preparation for death, if you are not prepared for death, that light will be terrifying. It is extraordinarily bright and it seems to be unbearable, because we are so closely connected to physical reality still that that light, by comparison, is brighter than thousands of suns. It's, oh, too much! It seems too much and it terrifies us if we are untrained. But if we have prepared in meditation, through either Phowa or through generation stage practice, we may be able to recognize that white light as being the very display of the male buddhas and bodhisattvas, or the male principle of the buddhas and the bodhisattvas.
If you don't recognize the white light and go toward it in your practice and become one with it, you will continue in the bardo experience. If you do recognize that white light and recognize it as the nature of the buddhas and bodhisattvas, and with devotion go forth toward the light, then you may actually exit the bardo experience without having to go through the rest of the bardo, and either be reborn in a pureland in order to receive instruction, or be reborn as a nirmanakaya form. There are many different ways that one can be reborn, but there is actually a traditional way to view how that birth will take place.
Copyright © Jetsunma Ahkon Norbu Lhamo All rights reserved