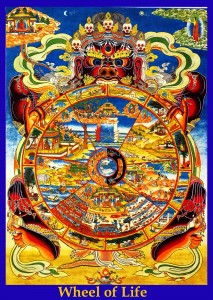 The Buddha is the Master who reveals the true Refuge, and the Sangha is like a true friend on the path to Enlightenment. The actual refuge is the Dharma, because it is the Dharma that will free us and pacify suffering. The absence of or freedom from delusion is cessation. If we do not apply the antidote to our faults and delusions they continue to arise. But after the remedy, if the delusion is totally uprooted, it will never rise again. That state, free from delusion and the stains of the mind is a cessation. Bottom line- anything we wish to abandon like suffering and its causes, can be eliminated by applying the opposite forces. The final cessation is called Nirvana, or Liberation.
The Buddhas, fully enlightened ones are inconceivable, as is the Dharma, their teaching. The Sangha is also inconceivable so if you develop inconceivable faith there is no doubt the result will be inconceivable. It is said in our scriptures that if the benefit of sincerely taking refuge in the Three Jewels could be measured in relative, physical terms, the entire Universe would not be able to contain its value just as a great ocean cannot be measured in a tea cup.
Having learned the value and benefit we should rejoice in the opportunity to make offerings to and take Refuge in the Three Precious Jewels of Liberation. Here in this way we will be able to alleviate the influences of our negative actions as well as karmic obstructions. All these can and will be eliminated, and we all will be counted as sublime beings, which will surely please the Buddhas, Bodhisattvas, and our own kind Gurus and Lineage Masters!
It is this we should focus on, not the ego or our pridefulness for results. The consequences of karma are definite. Negative actions bring suffering, always. And positive actions bring happiness and freedom, always even a small action can bring a large consequence; so mindfulness is required. And the ability to examine ourselves honestly is essential to all spiritual progress!
To all spiritual progress!
OM MANI PEDME HUNG!
OM AH MI DEWA HRI!
Copyright © Jetsunma Ahkon Lhamo.  All rights reserved