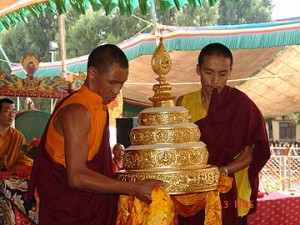 The following is respectfully quoted from "Natural Liberation" by Padmasambhava:
OM VARJASATTVA SAMAYAM ANUPĀLAYA VAJRASATTVA TVENOPATISTHA DRDHO ME BHAVA SUTOSYO ME BHAVA SUPOSYO ME BHAVA ANURAKTO ME BHAVA SARVA SIDDHIM ME PRAYACCHA SARVA KARMASU CA ME CITTAM ŚRĪYAM KURU HŪM HA HA HA HA HOH BHAGAVAN SARVATATHĀGATA VAJRA MĀ ME MUŃCA VAJRA BHAVA MAHĀSAMAYA SATTVA ĀH
This is an extremely important practice. It's dealt with quite concisely here, but more more elaborate instruction can be found in other teachings on the preliminary practices. This practice is of very tangible benefit. There are other teachings on Atiyoga and so forth that we may consider more esoteric or advanced, but it's questionable how deeply benefited we can be by those and how much we can truly enter into experience of the Great Perfection. Here, though, is something of practical benefit. If you are familiar with this practice, it's good to share it with others who may be beginners. By such a practice as this, the two types of obscurations can be purified. Once all of your obscurations have been completely purified, you are a buddha; and that means you have realized the Great Perfection.
Due to ignorance, delusion and stupidity,
I have transgressed my samayas, and they have degenerated.
O spiritual mentor, protector, protect me!
Glorious Lord Vajradhara,
Merciful being of great compassion,
Lord of the world, protect us!
Please cleanse and purify the whole mass
Of sins, obscurations, faults, downfalls, and taints.
By this virtue, may I now
Swiftly actualize Vajrasattva
And quickly bring every sentient being
Without exception to that state.
O Vajrasattva, may we become exactly
Like your form, with your retinue, life span, pure realm,
And with your supreme , excellent signs.
OFFERING THE MANDALA
Once you have begun purifying the two types of obscurations, there is the task of accumulating the two collections of merit and of knowledge for one's own benefit and the benefit of others. The welfare of others is accomplished in the realization of the Rūpakāya, or form embodiment, of the Buddha; and it is toward accomplishing that end that one offers the mandala.
OM VAJRA BHŪMI ĀH HUM
The basis becomes the powerful golden ground.
OM VAJRA REKHE ĀH HŪM
On the periphery is a surrounding jeweled iron fence.
In the center is the supreme king of mountains,
Majestic in its composition from the five kinds of precious substances.
Lovely in shape, beautiful, and delightful to behold,
Seven golden mountains are surrounded by seven concentric seas.
In the east is the continent Videha, in the south, Jambudvipa,
The west is adorned by Godàniya,
And in the north is the great Uttarakuru;
With the eight sub-continents of Deha and Videha,
Cāmara and Aparacāmara,
Śāthā and Uttaramantrina,
Kurava and Kaurava,
The sun, moon, Rāhu and kālāgni,
And this bounty of wealth and enjoyments of gods and humans
I offer to the precious spiritual mentor and his retinue.
Out of compassion, please accept this for the sake of the world.