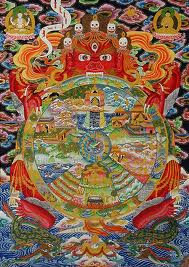 The following is a prayer from the Nam Chö Ngondro Practice Book:
Homage
I prostrate to the glorious Samantabhadra.
Vajra Verses
This precious human rebirth is extremely difficult to obtain.
All things born are impermanent and must die.
Perseverance in the practice of virtuous Dharma is cause for becoming a Buddha.
Whatever negativity is produced will cause one to wander in the six realms.
Hungry spirits suffer from hunger and thirst; animals from stupidity;
Hell beings from heat and cold; humans from birth, old age, sickness and death;
Demigods from warefare; and even gods (Devas) have their suffering.