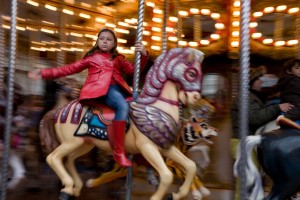 The following is an excerpt from a teaching by Jetsunma Ahkon Lhamo called "Antidoting the Mantra of Samsara"
Now, during this practice, with our whole body we're purifying body karma arising from the non-virtuous activity that we have engaged in since time out of mind, when instead of going for refuge, we went for ice cream.  So instead, now we are actually using our body, speech and mind—using the body by making prostrations, using the speech by reciting, and using the mind by remaining absorbed and visualizing.  Now we are training in the same way that a body builder trains a muscle. He develops and trains that muscle by pumping it and working it and working it.  Now we are working to sharpen our focus, not to be simply reactive and discursive the way we are in samsara going towards meaningless goals with no distinction whatsoever.  I mean, we'll follow anything!
Instead of going for meaningless goals that have no meaning whatsoever, instead now we are training body, speech, and mind to be single-pointed for the first time.  This is pretty amazing!  I mean, think about it.  For the first time, single-pointed.  I take refuge in the Buddha, in the Dharma and the Sangha.  And if you do it with your body, speech and mind, the potency of reciting that 100,000 times is extraordinary!  Simply extraordinary!  I mean, completing 100,000 repetitions of the refuge mantra and prostrations is an extraordinarily life-changing experience.  It's like stopping the merry-go-round for a minute. If you were born on a merry-go-round and your movement was invisible, and then suddenly you stopped, don't you think that something inside of you would go, "Whoa! Whoa!  Whoa!  What's this?  This is new!"  And that would be the beginning of a new kind of experience.  And it takes the weight of that kind of practice to make that happen.
Copyright © Jetsunma Ahkon Norbu Lhamo.  All rights reserved