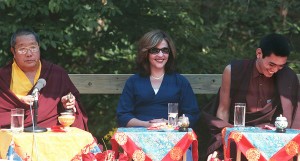 The following is an excerpt from a teaching given by Jetsunma Ahkon Lhamo during a "Good Heart Retreat"
There are some that may criticize the building of the Migyur Dorje stupa. I understand that it cost a couple of hundred thousand dollars. You might say, 'Well, gee, if you're going to spend a couple hundred thousand dollars, why don't you feed the poor?' Well, I feel like I am. I feel like that's the point of the stupa. I begged and begged His Holiness for these relics and the ability to build the stupa because in this country there's no place to go when you have no hope. There's simply no place to go when all the doctors have told you they can't help you. There's no place to go when you're at your last moments and maybe even the karma for this life has run out and you know that you haven't really attended to your spiritual life. You know that you haven't practiced very much. Or when your life is such that you got the 'can't fix-its'; don't know how to put it back together again.
I know that in other places, in other lands, there are deeply inspiring religious pilgrimage places. I know that in Tibet almost all of the Tibetans, at one time or another, take some sort of major pilgrimage; and it's a life changer. There are so many stories of pilgrimages turning out to be major healings. Where people will go to these holy places in which they have tremendous faith, where there are extraordinary relics there that are left by extraordinary Lamas, and healings take place that are miraculous.
I also knew that in this country there is AIDS which has been growing incrementally, cancer which is killing so many, and people constantly dying from all sorts of diseases that seem to be the afflictions of this day and time. There are so many diseases that we haven't found any cures for, including simple mental unhappiness. Because of all this, I really wanted to offer this stupa to our community. What we have built here is, yes, at great expense, yes, at great effort; but also done with great joy. We have been able to gather together enough money, enough energy, and enough time to make this dream a reality. And now we have something here which over time, hopefully by word of mouth, hopefully by your good works and your good faith, the word will spread out that we have this amazing stupa here. Now anyone at any time, no matter what they have experienced as their spiritual path, if they're ever down and out and without hope, can come here and make prayers. There is a potency to that pilgrimage. I'm hoping that it will become known that these same relics from Terton Migyur Dorje, these relics, of which there are pieces in different places of the world, not too many, but particularly in Tibet, have brought about amazing cures. I want people to know about this. I want them to come and feel better. To me, it's like the ultimate soup kitchen, you know? You can offer this nourishment, this food, to your community.
So we went through the effort of building this thing, and thank you all for everything that you've done to make it possible—the work and the money, all of it—and now we have this tremendous gift to offer the community. To my way of thinking, this is one such group or community effort that we have made together in order to provide for and to nourish the community and make our hopes for the world more visible and more heard. That's one way to do it. But I think at this point it's time to move even beyond that.
Copyright © Jetsunma Ahkon Norbu Lhamo All rights reserved