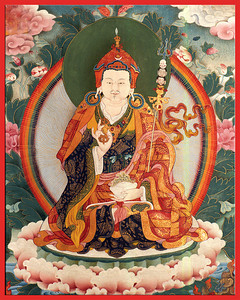 First, before a teaching or practice, we always establish motivation. In Mahayana or Vajrayana – the Liberation of all beings from suffering.
Today we discuss the immutable Seven Line Prayer. In Nyingma, this is the King of Prayers. In fact, it is a complete Puja in itself.  


Within are contained Refuge, Bodhicitta, making offerings, request for blessing and samaya. The prayer has three levels of meaning.
The three levels are Outer, Inner, and Secret. The Secret level should not be taught until an aspirant has accumulated 300,000 repetitions!
The first, outer level of meaning is as it seems. This is a Prayer to Guru Padmasambava, second emanation of Buddha, who brought Dharma to Tibet.  His Birth and Death were not ordinary. He was born on the pollen heart of a Lotus, appearing as an eight year old, a golden Sublime Child. His body had ALL the major and minor marks of Buddhahood. He was born stainless, fully awake, and realized. This is described in the Prayer.
In describing this way, Devotion is generated purely. He is surrounded by a retinue of Dakinis. Dakinis are female aspects of Buddha. Dakinis are varied. Some are Primordial Wisdom. There are Vajra Dakinis and Offering Dakinis. Dakinis are "Sky-Dancers" and are the activity aspect of the Buddhas.  So the meaning is Guru Padmasambava has accomplished all activities, qualities, and wisdom of all the Buddhas.  This is acknowledged in the prayer.
Next is the Samaya-commitment to follow and to practice. Then the request for the Guru to bless us. In Vajrayana that Blessing means everything, as it ripens and deepens one's consciousness, without which we remain ordinary, unfulfilled.  


The inner meaning is that we are connecting with and awakening to our OWN Enlightened Nature. Through devotion your mind mixes with the Guru's like milk with water, and they become inseparable; same taste and essence.
We are taught that to recite this prayer brings Enlightenment within seven lifetimes. To accomplish this prayer can bring enlightenment within one life. Accomplishing is 300,000 times or more. E MA HO!   One not only awakens, but also accomplishes Buddha's activities, qualities, and blessings. (Remember? Dakinis).
As I've said the secret level cannot be taught at this stage, not on twitter! A very broad explanation is that the sacred syllables purify psychic winds, channels, and fluids.  All of which are invisible to the unawakened mind. This is the very means to Enlightenment! One should have wind (lung) transmission, which I cannot confer here, so you may commit to seek out Lung Transmission from a qualified Nyingma Lama. So here we go.
HUNG – ORGYEN YUL GYI NUB JANG TSAM
On the northwest border of the country of Urgyen
PEDMA GESAR DONG PO LA
In the pollen heart of a lotus
YA TSEN CHOG GI NGODRUP NYE
Marvelous in the perfection of your attainment
PEDMA JUNG NE ZHE SU DRAG
You are known as Lotus Born
KOR DU KHANDRO MANG PO KOR
And are surrounded by your circle of Dakinis
KYED KYI JE SU DAG DRUP KYI
Following you I will practice
JIN GYI LOB CHIR SHEG SU SOL
I pray you, come and confer your Blessings.
GURU PEDMA SIDDHI HUNG!
(Not translatable. Sacred words)
That is the prayer and translation. You can accumulate prayer like Mantra, Counting on a Mala (prayer beads) AND should repeat this prayer three times before any other practice, such as the Amitaba recitation from yesterday.
After reciting, the Guru melts into light and pours into the crown chakra, accomplishing the great blessing. May all beings benefit!
And as always, one considers Guru Padmasambava as inseparable in essence from one's own Root Guru. This then is inseparable from your mind.
One more thing, the condensed essence of the Seven Line Prayer is the Vajra Guru Mantra. OM AH HUNG BENZAR GURU PEDME SIDDHI HUNG!
May my mistakes in transmission be fully purified by OM BENZAR SATO HUNG!
I have so far accumulated over a Million. My goal is 5 million, but I'm a slacker! LOL! I love to chant this prayer, my favorite.
Here is a recording of me chanting the prayer at three different speeds to facilitate progress. I ask new students to accumulate 10,000 repetitions. Easy!
Jetsunma chanting slowly-for beginners
Jetsunma chanting the prayer a little faster
Jetsunma chanting the prayer rapidly