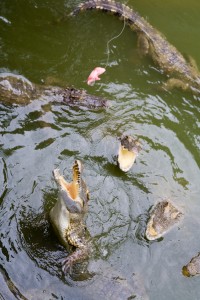 An excerpt from a teaching called How to Pray by Being by Jetsunma Ahkon Lhamo
How do we pray? How do we rely on the Buddha, the Dharma and the Sangha and the Lama who is the embodiment of all three? First of all, we have to get connected. We have to get wired up. And the way we get wired up is to practice refuge.
We have to view the Three Precious Jewels as though we were hanging over a giant abyss with crocodiles at the bottom, and the only rope to safety is held by the Three Precious Jewels. The rope is Guru Rinpoche—it is the Lama—and we hold on and start climbing. In other words, we sincerely take refuge, deeply in the most profound way that we can.
Most of the time we take refuge in ordinary things. We take refuge in our television programs, in our computer, in our social life or whatever it is that we like to do. We go to them to be happy. That's 180 degrees away from prayer. Instead, we should realize that here we are asleep, living in a dream state, and that we must rely completely on the awakened ones and their teachings in order to wake up. We can't rely on the teachings of someone who is also sleeping. That would be the blind leading the blind.
Lord Buddha was called the Perfect One because in every appearance and in everything that he did, he demonstrated that state of pure awakening and enlightenment. The Dharma, the method that we are using, has come from that awakened state.
© Jetsunma Ahkon Lhamo