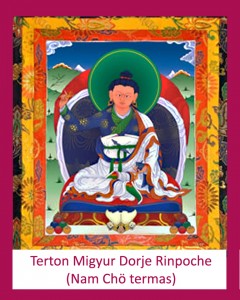 The following is an excerpt from a teaching offered by Tulku Dawa Gyalpo at Kunzang Palyul Choling in Maryland. Future posts will continue with the teaching on the Life of Migyur Dorje.
First of all, generate this altruistic bodhicitta thinking that for the sake of all sentient beings, I am going to listen to the life story of the great Tertön Migyur Dorje. By listening to his life story, I'm going to generate confidence in the revelation teachings of Tertön Migyur Dorje. Then I'm going to put the generation and completion stages into practice, to be able to lead all sentient beings into the complete state of Vidyadharahood. For that purpose, I'm going to listen to this and generate bodhicitta.
Today's talk is about the life story of Tertön Migyur Dorje. I came to know that Jetsunma Akhön Lhamo had this sudden experience, or some kind of thing, that made her ask me to talk about his life story. This was related to me from Gonpo and others. I heard about Tertön Migyur Dorje's life story here and there from our late Holiness Penor Rinpoche Holiness, but I didn't really study his life story deeply. Because I was told to talk about his life story, that became a catalyst or a condition for me to look into the life story of Tulku Migyur Dorje. I heard the life story of Tertön Migyur Dorje from our late Holiness, my own root guru, as well as from our Khenpos and tulkus. They taught me about Tulku Migyur Dorje's story. I know their personalities very well, so I didn't look at it in detail. Today, when Jetsunma Akhön Lhamo asked me to talk about this, then I started to look in detail. Actually it is not possible to complete this in two hours. There is an outer history, inner history and secret history. There are over 250 pages [in this book] and that is not all. There are also some others [books] that I have to look at. Here I am trying to shorten over 250 pages [to fit] within this two hours. I think maybe tonight it will take a little longer than usual.
When I looked, I enjoyed myself very much. I felt bliss after I looked at those histories. Before I start this, I would like to thank Jetsunma Akhon Lhamo so much because she made this condition for me. I am so pleased and happy to talk about it. Not just only for me; for all who follow this tradition. It's very important. He is the head, or root, of this tradition, where it comes from, when it started, and from there, what is going on in the Palyul lineage. He is like Shakyamuni Buddha, the person who started Buddhism on this planet. Likewise, Tulku Migyur Dorje is the person who started this Palyul tradition, especially this Sky Treasure. Therefore, I'm considering myself very fortunate to have a chance to talk about it.
Before I start, I would like to describe a little about the namthar, which is a kind of liberation. thar is liberation. Nam is like aspect, if you translate it word for word. The life history of a normal person isn't namthar. We don't call it namthar. It is "history," but in Tibetan we have a different word. If the life has a very deep meaning and is very beneficial, it's called namthar. If it is just a normal person's life story, we call logyu, a different way of saying it. In English, it is Tulku Dawa's history or it is Tulku Migyur Dorje's history. It's the same. There's no different "history." But when we talk in the Tibetan way, there is a big difference.
Nam is the aspect, or it could also be "appearance." Thar is liberation by looking in that person's aspect, which means their life. Their life is their aspect, their appearance. Through looking at their aspect, or the appearance of their three doors, we can get liberation by studying their life story. For that it is very important to look at the great person's life story so we will know what we have to do in order to follow their path. Like Shakyamuni Buddha's life history. If I am trying to follow him, then what should I do? This is Tulku Migyur Dorje's history, the namthar.