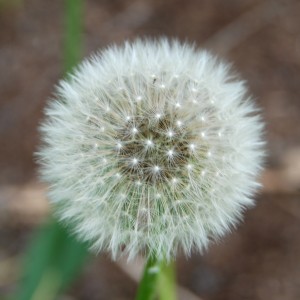 From The Spiritual Path:  A Compilation of Teachings by Jetsunma Ahkon Lhamo
You are able to practice because you had the karma to receive teachings. Merit has come to the surface of your mind; good karma is ripening. But linked with some of this ripening merit are some bubbles of not-so-good karma. So what happens? You sit down with the intention to practice, but now you're just too tired. You start to fall asleep. Or you decide that you need to do some other things. You externalize what you think are the causes for your inability to practice. Maybe you even begin to doubt that you're happy in the Dharma. You wish you were surfing in California, and this thought is like a little rat, gnawing in your head. It gnaws at you slowly and steadily.
You need to understand that good karma is ripening, but some negative karma is linked to it. Embedded in your mindstream is some non-virtuous activity associated with the intention to practice. Now you have repeated that pattern, in seed form, and it will ripen in the future. Sometime in the future, you will again sit down with the intention to practice, and you won't be able to do it. So the sensible thing to do is to persevere, to push through as well as you can. Understand that your tiredness, sleepiness, and other excuses have no basis. They are puffballs.
When you find yourself making excuses why you are unable to practice, why you don't really want to hear the teachings, the best thing to do is to break through by accumulating merit. By doing virtuous things. Study Dharma. Pray. Practice kindness and generosity. Meditate. Contemplate the teachings. Try to understand them more deeply. Be attentive. Make offerings. Repeat the Seven Line Prayer many times. Repeated with faith, it is an antidote that can end all your suffering. It can, the teaching says, lead to enlightenment. All these things are ways to accumulate merit. You must understand how merit (and lack of it) works, or you will have a difficult time maintaining potency on the Path. It will even be difficult, on an ordinary level, to have a good life. For you won't have any way to understand what is happening to you. You will always blame external things, other people. It is true that when you encounter misfortune, other people are usually involved, and you may well have some mixed karma with those people. But the karma arises within your own mindstream; it isn't somewhere outside.
Pull out of your addiction to reaction. Think of your mind as something like a mechanism, and you yourself as a mechanic. Understand that you can work with its levers, pulleys, and gears. To most people, their own minds are a mystery, a complete mystery. And they search for someone who can understand them.
What should you do? Persevere in your practice. What else? Create more merit. The big mystery of "me" is solved. Almost reluctantly, too, because it's so lovely to remain a mystery. It's so pleasant to think that there is something mysterious, special, and unique about us. How often we try to obtain something that seems just out of reach. Or we have it in our hands, and it slips away. What is going on here? Lack of merit, of course. And yet we keep on reaching and grabbing and forcing, all in vain. Sometimes we think we have made something happen by forcing it. And yet, we have merely rearranged our karma. The basic problem remains unsolved. Suppose you want a new car, but the cost is just out of reach. Both merit and lack are coming to the surface. Even if you contrive to get the car, you will still have, ripening, some non-virtue associated with lack. That lack will always show up somewhere—with the car itself, or in your relationships, your health, or in missed opportunities. So the key, whenever you lack something, is to accumulate merit.
Some people are unaware that it takes merit to be happy. Have you ever noticed that some people just seem to be happy, no matter what? And others … well, happiness seems to elude them. And it's because there is no karma of happiness, no karma of having made others happy, ripening in their minds. You can't even lighten them up with a joke. They just don't have any happy bubbles ripening to the surface. "How are you today?" you ask them. "Not so good," they reply. "Umm … Nothing seems to go right."  But if we haven't got the karma for happiness, whose fault is that? Who did it to us? Someone else? No, but it's a problem we can fix. The problem is within our own minds. We can create the karma of happiness by creating merit.
© Jetsunma Ahkön Lhamo