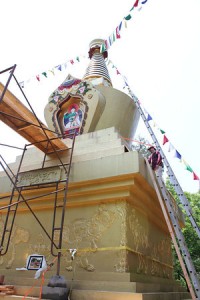 The following is an excerpt from a teaching by Jetsunma Ahkon Lhamo called "The Lama Never Leaves"
Now it's also said that the stupa has a mandala of enlightened activity around it the same as a living Buddha does. That is to say, that a stupa that is powerfully consecrated with relics, and consecrated by an enlightened lama who has accomplished the mantra, has a radius of about 100 miles of influence. Isn't that amazing?
Yet, we are not keeping that strength going, that fire going. The power of the stupas will be, by definition of mind, diminished because our minds are not with them. So it's a terrible, terrible frightful waste. It's really like having all the lamas of the lineage across the street. Oh, we pride ourselves that we have robes and we can go places and we can do practices. Some of us even have the more advanced practices. We can stare at bindus and stuff like that. But if we don't walk across the street and take care of the stupas, you can say we have no practice. You could say that. Because it's like the lamas of the lineage are there, and no one is honoring them. We call them to our practice. We pray to the lamas of the lineage. We visualize them gathering in front of us, but we abandon them. And so what is this cartoon in the sky in front, when we have abandoned the actual Nirmanakaya form?
They say that the lama and also the stupas have this 100 mile radius, approximately, of activity. I built these stupas here because I was hoping that they would influence our government, but I don't think that has happened as yet,. I could be wrong, but I don't see it. So I'm wondering if I could prevail upon each and every one of you to take these stupas into your heart, to think of them as your guides, your objects of refuge and to honor them in the way that they should be honored so that the lamas through these magnificent stupas can carry out their enlightened activity. Because these stupas are an extension and an appearance of the Buddha's enlightened activity.
It's up to us to plant that firmly in the world, to make the roots deep and to keep the causes pure and untainted for future accomplishment and future happiness. There are so many stories in Buddhist teachings about particular practitioners that came to their own fruition through some slight, almost mindless, deed in the past concerning a stupa. I'm a terrible Buddhist storyteller because I forget the details and I get the punch lines wrong, but I'll try. I'll try to tell you a little bit of what I remember.
There is this one story, for instance, about a pig who was being chased by a dog. And the pig was a pig. He had been wallowing in mud, and he was all dirty. He had a muddy body and a muddy face and a muddy tail. And the dog thought, "Oh, I'm gonna' get me some pork chops," and started chasing the pig. And round and round this stupa they went. After they went round the stupa a few times, the pig smashed into the stupa accidentally and the mud from his body fixed a little crack in the stupa. That [pig] was reborn in Dewachen, or some enlightened paradise, because of that cause and immediately received teachings and the ability of accomplishment. He was reborn as a bodhisattva, and was given every means to accomplish; and accomplishment was gained. A pig! Accidentally! These stories are told to us as an indication of what you're missing, of how amazing the merit is of caring for the body of the Buddha.
Conversely, we are told that to leave a stupa in decay and to not honor the stupa properly will bring nothing but obstacles. And we've had lots of obstacles here. We've had obstacles to seeing the teacher, and that's me. I've tried very hard to get here many times and yet there are obstacles. And I believe in my heart that these obstacles are because when I left, the stupas were not like this. I've returned to this, and this is the body of the Buddha.
Now I'm not saying this to make myself seem like a high up person or anything like that. Normally in monasteries, the Khenpos get to tell these stories about their lamas. I wish we had that condition, but we don't. So, allow me to just commit the non-virtue of telling you what the other lamas have said about me. They've said that if you don't see this teacher very much because of who she is, you should understand that this is because your own merit is diminishing, not because she's not here to serve you, not because she doesn't want to serve you. It's strictly cause and result here. Because of the nature of this teacher—and because of the nature of my teacher and because of the nature of the other teachers of this lineage—their merit is such and their accomplishment is such that we must always create the causes of continuing to meet with them. They're just not a collection of Tibetan jimokes that do their thing over there and then come and do it over here. These are beings who have accomplished Dharma and who have returned solely to benefit sentient beings. Their only wish is to bring benefit., and yet we are not creating the causes for that.
Now that I know what the stupas look like, I will wait before I ask His Holiiness to return here until they are better. I would not break his heart like that. And I'm not saying I'm a good mama and you're bad kids. It's not like that. I'm telling you that this is your practice. I want you to be happy. I want you to be free of obstacles. I want you to attain that pure awakened state where you know what to accept and what to reject. I say to you, "Reject your own phenomena that tells you I don't wanna. I'd rather have fun. Reject your own phenomena that says I can't because I'm sick, I've got a headache, I blah blah blah. Reject your own phenomena and accomplish Dharma instead."
Go to the stupa and if you can bend a little bit, you can bend to offer. If you can bend a little bit, you can bend to clean. I tell you if you are sick to death and worried for your life, you should crawl to the Migyur Dorje stupa saying prayers all the way, because that's what a smart Tibetan would do. That's what I would do. If you can't walk, get there anyhow.
Copyright © Jetsunma Ahkon Norbu Lhamo All rights reserved