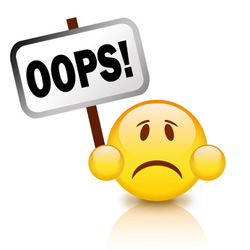 The following is an excerpt from a teaching by Jetsunma Ahkon Lhamo called "The Habit of Bodhicitta"
So little by little, you begin to change your habit. If you really blow it, and you will, … Accept that right now, too. You will. You're bound to blow it. When you blow it, you can prepare yourself for that by saying, 'As a sentient being, I will probably blow it again. And when I do, I'm going to get right back on the horse and I'm going to make restitution and I'm not going to form any conclusions about myself. I'm going to let my mind relax.' And get right back on the horse by practicing bodhicitta in the very next moment, plus confess in your mind that you were wrong just there. Confession in your mind is very, very important. 'Boy, I really blew it just then. I was really wrong just then.' And make restitution as quickly as you can.
Sometimes we have a kind of pride that says you're going to look like a jerk if you say, to somebody that you were just mean to, 'Well, I've really been trying to practice generosity and I realize that I was not generous to you at all. I realize that was pretty sleazy, what I just did, and so I'd like to ask you if there is anything I can do for you.' Now most of us have too much pride to do that, but it's the very right thing to do. And you'll feel like a new person once you begin to do that. And that will be not only a pebble in this pile, but that kind of thing—the confessing and making restitution of an already established non-virtuous habit—is like a boulder going into that pile. It's more important than little kindnesses. That kind of acceptance and inner peace and moving forward regardless, really, really helps. It's like a boulder going into that pile, so much more quickly when you get into the habit of kindness. So I heartily recommend that method.
Copyright © Jetsunma Ahkon Norbu Lhamo All rights reserved