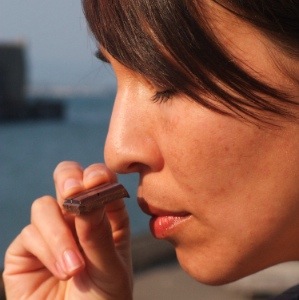 The following is an excerpt from a teaching by Jetsunma Ahkon Lhamo called "Perception"
The Buddha never really bothered to address cosmological questions.   It is true that in the Vajrayana tradition there is a cosmological history that is given, but to my understanding that history does not teach us how the original assumption came about.  This cosmology speaks of the absolute void, and it says that from the void came movement.  In the way that it is spoken of, one understands that the void is the totality of form and formless as one. They are the same. They must both be contained in the void because form came from the void.  Emptiness and fullness are the same taste, the same essence, and the nature is pregnant with all potential.  In the state that is called the void there is non-distinction. Form and formless are not distinguishable from one another; they are the same. They are the same taste.
However, we do not perceive form and formless to be the same. Neither do we experience the clear luminous nature that is our own true nature and is also the nature of all phenomena.  Why don't we experience that?
We don't experience that because we are involved in consciousness. We are involved in taste; we are involved in feeling; we are involved in subtle and gross perception. And this process, this entire process of elaboration and exaggeration that extends from every single perception that we have, is so elaborate it extends, seemingly, forever.  We are so involved and so tremendously tripped up by and so compelled to compute instantly, because consciousness deals with relativity and specific perception and specific computation. We are compelled to be involved in that. We do not, then, perceive the true nature.
When you compute in the way that I have described, as quickly and as compulsively as you do, while you are utilizing these experiences which are a function of the assumption of self, there is no space to perceive that nature.The nature hasn't gone away, nor has the void disappeared. The void isn't something that used to be back there in time out of mind and now it's not here anymore because everything developed.  This is how we think, isn't it?  We think in terms of relativity.  That space, that emptiness, that voidness is the same. It remains.  It is steadfast.  It is unchanging. It is as close as it has ever been and as far as it can ever be. Close because voidness is the nature.  Far away because we cannot see it, not even for an instant, due to the functions which are based on an assumption of self-nature.
What conclusions can we draw from this?  Perhaps we can think that there is a tremendous amount of intelligence and logic in the Buddha's teaching when he taught that the relative view, the relative world view, does, in fact, exist.  You, in fact, exist. The world exists.  Relative view exists.  Yet, the nature that is your nature, that is the nature of all phenomena, that is the nature of the world, that is the same nature of both form and formless, that nature is the true nature.  One cannot say that because you perceive yourself to be real and your experiences to be real that one can then deny the truth of your primordial wisdom nature, the nature that is really you.
Copyright © Jetsunma Ahkon Lhamo.  All rights reserved