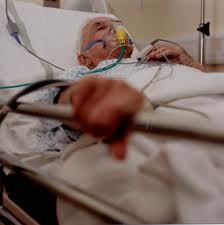 The following is an excerpt from a teaching by Jetsunma Ahkon Lhamo offered during a Phowa retreat:
While there are individual experiences in the bardo of dying, let's talk about the general ones so that we can prepare. Since we are talking about the six bardos, in general, we want to be very clear on the bardo of the moment of death, and that's the last subject that we will cover today. It is a very, very important one, because we are all, in our way, preparing for death and we will all definitely experience death.
So, first of all, the bardo of the moment of death. We have talked about the point preceding death. Preceding death there is a period of time during which—and a person may or may not know—one has met with the conditions that will bring about the death. Now for those people who have a disease, a heart disease, or AIDS, or some disease that is degenerative or progressive in some way, the moment that the disease occurred to them was the moment that they entered into another bardo. Although it is still contained within the bardo of living, it is the bardo that preceeds death. What we're talking about now is the actual bardo of the moment of death. That is when death is marked; it can be seen from the outside, and it actually occurs.
Before I begin I want to make something very clear. We have funny ideas about death. We have some terrible ideas about death. First of all, we're scared to death of death. That's the truth. I really didn't mean to make a pun, it sort of happened that way. But we are scared of death, we are terrified of death, and it's because we are unprepared. That's the only reason to be afraid of death. And preparation, as it happens, will dispel the fears of death. I even think that during this week some of your fears of death may be dispelled, because you will be better prepared. But, in truth, until that time, we are terrified of death, and that is the main feeling we have about it. We do not understand death.  We think that death is a horrible, sort of killing thing that we have to go through, and that the best way to go through it is unconscious. That's the kind of idea we have. People often will actually pray, "Let me die in my sleep. Let me die unknowing that I'm going through the death experience." And there are other people that say, "Let me die quickly." Well, for my money, I would like to be one of the fortunate ones who know for some period of time before their death that they have caught the cause of their death or that they have the cause of their death. For my money, that's what I wish would happen to me if I were an ordinary sentient being. If I were in that position where I was caught in samsara—and we all feel that way, we all are—I would wish to have preparation time. I would wish to know beforehand.
Those of us who are aging gradually and staying clear and in good health through the aging process, we are fortunate, because our minds are clear; and yet we can clearly see in the mirror that we are approaching this time. Clearly we are not the same person we were ten, twenty, thirty, forty, fifty years ago. Clearly that is true.  We have pictures to prove it. These people are fortunate. We are fortunate. Because seeing the evidence of death approaching, we have time to prepare. Yes, we have to experience the discomfort of knowing that death is approaching, but it's like going into the room, turning on the light, and seeing exactly where the stuff is so you can get around it. Remember we used that analogy early today, of walking through a room with all kinds of furniture. You want to do it when the light is on; you want to know how not to stumble. So this is what we are experiencing if we can prepare for our death.
Particularly, think about the tremendous suffering of diseases like AIDS. We talk about the tremendous suffering of something like that; and the biggest and most horrible part of it is that we die younger than we would have died if we did not have the disease. And that's how we think about it. And yet, a disease like that gives us an opportunity. In a way, it is half of a blessing. In a way, it is the quintessential suffering of cyclic existence, couldn't be worse. It is, in a nutshell, what cyclic existence actually is when you take away the barbiturate effect that it has on us. Yet, in another way, it is a way to understand —you understand clearly as never before—that death is imminent. There is a way to understand that you could not have had any other way, and it gives us extraordinary time. It gives us an extraordinary clarity of time to be able to practice because we're motivated. It's just that clear. We are motivated. We know we have a date to keep. Those of us who don't know what that date is, we're a little more vague about this.  We don't want to be bothered, frankly, and so we are at a disadvantage.
Less lucky is the stuff that most people pray for: a quick death. Instantaneous. "Hit me with a truck." That kind of thing. That's how people think, "Get it over with. Get me out of here." And it's because they don't understand what death is. They do not understand that once the eyes are closed and the breath has stopped, it sounds like a pun, but basically life goes on in one form or another. One continues to continue. That is the nature of what we are. And so there is no true cessation other than the cessation of breath. To die a quick death may save a little bit of discomfort for the unprepared, but it gives us no time for preparation. Even the dissolution of the elements occurs in an untimely and hurried way so that we cannot cope with them well. So do not pray for an instant death.
Neither should you pray to die in your sleep, because it is too confusing. You are already in the sleeping bardo. The sleeping bardo has a heavier level of delusion in a way than the waking bardo, because you literally are not slowed down by the time it takes physicality to process itself. For instance, if I want to walk from here to that door it's going to take me a certain amount of time and effort because of the physicality of the situation; but in the dream, I'm there, I'm out, I'm gone. I can go anywhere. So in a way there is even more delusion there. You do not want to die in the middle of the dream state unless your practice is so good that you would recognize the bardo even in the dream state; and that can only be hoped for if you are the kind of person who has complete control and direction over your dreams. Always. And that ain't you. So instead, pray for a time of knowing and a time of preparation. Pray for the leisure to prepare for your death. That is the appropriate and best prayer.
Copyright © Jetsunma Ahkon Norbu Lhamo All rights reserved