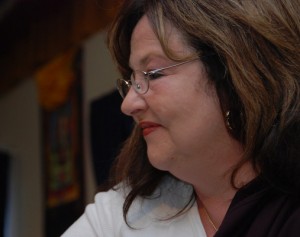 The following is an excerpt from a teaching by Jetsunma Ahkon Lhamo called "Commitment to the Path"
There are many different ways to practice Dharma according to our individual needs.  For that reason, it behooves us to kind of sit back and get the lay of the land before we start frothing at the mouth and chomping at the bit.
The tendency is to come in here and say, "Oh, great.  Well, first thing I'd like to do is start wearing robes.  The second thing I'd like to do is have me at least four or five interesting malas of all different colors."  And we like to have the books. And we'd like to have a shawl, you know, a zen.  Only a real one, like them [the monks and nuns].  So we have all these ideas.  We think, I really want to get this where you sit on a bench.  It's such a noble thing to do.  You sit there and you practice.
When we first come to the path, we have all kinds of funny, cute, but childish ideas, almost like a child viewing the world for the first time and trying to make sense out of it.  But then eventually there is a certain kind of relaxation that happens when the newness wears off. And then we are able to make some intelligent choices.
When we first start in our Dharma practice, we always think we are going to be great practitioners.  A couple of years later, we're still hoping we're going to be great practitioners. We find that it's really taken this long to get the lay of the land, to really understand what is the relationship with the Three Precious Jewels.  What is the relationship with one's teacher?  What is this about view?  Why are we here?  What's this on my foot?  (I told you we're going to have fun.)
So what are some of the fundamental ideas that we have to really accomplish and become at peace with in order to make intelligent choices on the path, in order to make choices that are lasting and commitments that are real? When we first enter onto the path, we might be filled with – I've seen this happen so much –with a kind of excitement, maybe even a feeling of passion.  But these feelings are emotional feelings, and emotional feelings come and go every 10 minutes or so.  You know how up and down our emotional condition is.  So those feelings, while stimulating and exciting at first, will not last and cannot be relied on.
So the best thing to do when you approach the path, is to approach it, not critically, but intelligently.  Look at the path and really become bonded with it in the way that it's almost like— well, maybe women can relate to this more—but it's like buying a really extraordinary new outfit.  I don't know about you, but if I buy a new outfit, it has to hang outside of my closet for a little while so I can look at it and grok it in fullness.  Then and only then can I actually put it on my body.  So in a way, Dharma should be like that.  We should really examine how's it going to lay, how's it going to fold.  What is going to happen here?  It's like we have to look at it. Examine, examine, examine. Because once we put on the clothing of Dharma and engage in our practice, we should try very hard at that point to remain stable. That's important.  Once we engage in this close relationship with our own root gurus—when we meet the guru on the path and that hook is set and the connection is made, and we have found the potential for our liberation—then that has to remain stable.  That is not the time to vacillate.  So we should hang out a bit. Examine intelligently. Examine the qualities of our teacher, examine the qualities of our Vajra brothers and sisters. Then once we realize that this is our teacher and this is the place that we will practice, at that point, we are required to become stable.
© Jetsunma Ahkön Lhamo All Rights Reserved