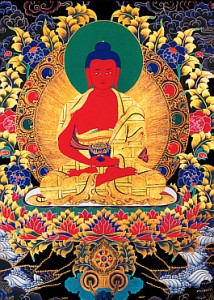 The following is from a series of tweets by Jetsunma Ahkon Lhamo:
Death comes to us all, often sooner than we know. Prepare for death. If you have accomplished Phowa then death is not frightening, and can be noble and of benefit. Leave with no debt unpaid, and practice. Death will be in the heart of the Primordial Mother.
One can practice Amitaba Buddha, and at the time of passing to Dharmakaya Buddha, the practice will be the connection. OM AH MI DEWA HRI!
Either way, if dying, renounce all, for not one grain of rice will go with you. This is not a time to pick apart the world, or hurt anyone.
These are the teachings as given by my Lineage, Palyul.
If death is chaotic and fearful, unprepared or cruelly, there is unimaginable suffering in the Bardo of death. Always attend your mind. Leave some worthy act of compassion, keep the mind loving and peaceful. Life is as short as a cup of water travelling down a waterfall, and as fast.
© Jetsunma Ahkon Norbu Lhamo