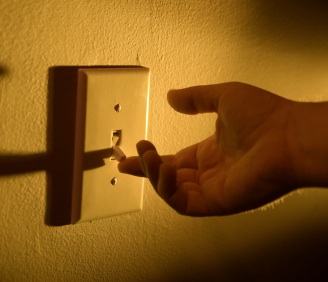 The following is an excerpt from a teaching by Jetsunma Ahkon Lhamo called "Why P'howa?"

One thing that happens as we are turning the mind toward Dharma is we literally begin to examine the condition of cyclic existence, We come to understand that we are not the only ones that are wandering in cyclic existence. All sentient beings that we see of all types, not only counting those that are human but also animal sentient beings and sentient beings that live in other realms, these too are wandering aimlessly and are suffering. So we begin to develop a sense of empathy through examination.
Now some people might think "Gee, what a downer! Why would you want to examine the suffering of others? Better to close one's eyes and think happy thoughts." There is a time and place for closing one's eyes and thinking happy thoughts. There is a time for joy and a time for happiness. And the kind of joy and happiness that is healthful and that increases our ability to attain liberation and to have happiness is the kind of joy that is not the same as suppression of information. It is the kind of joy that is not the same as closing one's eyes and being blind to cause and effect relationships. It is an all-pervasive natural kind of joy that is in harmony with our true nature, and is the very display of our nature. That joy promotes health and well-being, promotes longevity; and it is born of moral and ethical and compassionate conduct.
The kind of joy that we are giving ourselves when we try to fake it, literally fake it through our lives, ignoring all the bad news and just playing the way children play in the sandbox, picking and choosing what we want to think about and what we want to see, that is a joy that is an artificial recipe. It is a joy that exists in the same world with suppression, ignorance and lack of information. That joy is not healthy for us because it does not promote longevity, it does not promote happiness. It is literally like this: Let's say we were to take all the chairs that are in this room and distribute them throughout the room in a haphazard way and then pile in a few more pieces of furniture, and wait til it's pitch-black midnight. Turn off all the lights, close all the curtains until it's absolutely pitch dark in this room. Then try to negotiate going through this room. Would you like to negotiate going through this room, just trying to feel your way through with all of its furniture upturned and barricaded and brought up in your way and that sort of thing? Would you like to go through the room, getting from this door to that door? And let's imagine that door is the ultimate door, the one we need to get out of. We must get out of that door for whatever reason. Would you like to go from this door to that door with the lights off or with the lights on?
I don't know about you, but I'm a sensible, practical kind of girl and if I have to make a journey, I want to know the facts. I want to go with the lights on. I want to turn the lights on so that I can walk around the furniture, go under it, step over it, do whatever it takes to negotiate this scary passage through samsara. It makes no sense to close the eyes and not take in information and pretend, suppress the facts in order to go from one place to another, because you will surely fail. You will surely hurt yourself and have a very painful journey in the process.
So for this reason we must examine cyclic existence. We must examine the condition of sentient beings, and we must examine our own condition in order to truly turn our minds toward Dharma. Once we have seen the faults of cyclic existence and seen the good results of understanding, of growing in understanding, and the joyfulness of virtuous and moral and ethical conduct and compassion, we will develop the habit of wanting to know, of opening the mind, of having the mind be very much like a bowl, a very pure thing in which nectar can be poured. We will crave information. We will crave practice. We will literally crave turning on the light so that we can understand. If we do not crave now, if we wish to remain in ignorance and darkness because it is easier or because we like being drunk, it is simply because it is our habit to do so and that does not excuse us from the need to change.
Develop a new habit. You can see that that young person who partied down and worshipped the porcelain god every weekend morning, literally is watching their well-being go down. We on the outside can see that that needs to change, but that person, in the flux of their own ignorance, cannot see that that needs to change. So I am pointing these things out to you so that you can make new and acceptable decisions in your lifetime so that you can actually turn your mind toward Dharma.
Copyright © Jetsunma Ahkon Norbu Lhamo All rights reserved