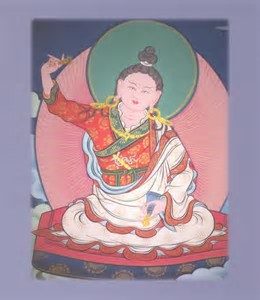 The following is an excerpt from a teaching offered by Tulku Dawa Gyalpo at Kunzang Palyul Choling in Maryland. Future posts will continue with the teaching on the Life of Migyur Dorje.
In that way, the years passed. He went to Karma Chagme's cave one time when he was seven. He liked staying there, but he was very shy and scared of his grandpa. His grandpa and his father would not let him stay over in a cave with Karma Chagme. At that time they met and they separated. And from there for three years, nothing. I think his grandpa was now drinking alcohol. He was always drinking, not taking much care of his grandson. And there's another reason too. However, when he turned ten, he was able to go to Karma Chagme. Then they allowed him teach. Now it was time to study. Fortunately, it seems like grandpa didn't know how to teach. Otherwise, he would teach. Then they passed Tulku Migyur Dorje to Karma Chagme to teach. Karma Chagme started teaching basic needs and all that, and about the spiritual path, too. From refuge, Karma Chagme started with the Dzogchen tradition.
He started teachings, then gradually he gave empowerment to that ten year old boy. The first empowerment he gave was the Amitayus empowerment in accordance with Ratna Lingpa's treasure, and he gave Peaceful Guru Rinpoche and Wrathful Guru Rinpoche empowerments. Before giving empowerment, he checked karmic relations, which kind of deity or buddha was more akin to him or which he had his karmic relationship with. Throwing the flower, checking which is more suitable for you, to determine during the empowerment what kind of deity you have to visualize yourself as. In all three of those empowerments, whenever Tulku Migyur Dorje threw the flower, it either fell in the middle or in the east, always these two. Then Karma Chagme thought, "Now I will give him a name. He is always throwing in these two, so I'm going to name him Orgyen Migyur, Orgyen Migyur. Actually Karma Chagme said, "The east is Vajra and the center is Migyur. Migyur Vajra, Migyur Dorje. But he thought, "No, maybe I'll give Orgyen Migyur." And he gave him Orgyen Migyur, and that boy did not accept that name. That boy said this is not my name.
Now this is amazing. He said, "This is not my name." Karma Chagme went back to his first thought. He said, "Well, I will give you Migyur Dorje," and the boy was happy. He loved that. "Yes, this is my name." That's what he said when he was ten. From there on, he was cared for by Karma Chagme. Karma Chagme provided all the teachings and whatever he needed. The first year, when Tulku Migyur Dorje was ten, Karma Chagme gave teaching, empowerment, everything. The second year when Tulku Migyur Dorje turned eleven, then Karma Chagme started his retreat. At the same time, he let Tulku Migyur Dorje stay in retreat with him. So Tulku Migyur Dorje started three year retreat when he was eleven. He was receiving teaching and practicing. All this. Just two of them in a cave, in retreat. Right after he turned twelve, within this three years actually, he began to reveal the Sky Treasures, for which we have the sadhanas and the teachings we do in summer retreat. He revealed all this teaching during those three years. Some of them were revealed in a dream, some of them were revealed in his experience, some of them were revealed in actuality. That's why it's called [Tibetan].