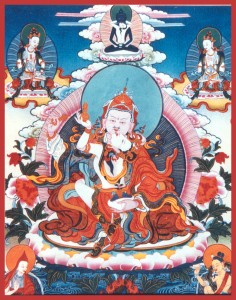 The following is an excerpt from a teaching by Jetsunma Ahkon Lhamo called "Tools to Deepen in Your Practice"
We think that bodhichitta is something that we must practice, and yes, in order to build proper habitual tendency, that's what we should do.  That is the basis and foundation for the next level of practice.  But this level of practice requires going beyond simple human kindness, or even extraordinary kindness where we practice from life to death, you know, in order to practice medicine or give out food, or make some phenomenal contribution.
But here in the Vajrayana path, we must understand that you cannot create the bodhichitta.  You cannot establish it, nor can you tear it down or destroy it.  All you can do is deny that you are that; and you can do that from now 'til kingdom come, whenever that is.  But you cannot deny the understanding that when we seethe fundamental picture we see again and again and again in Vajrayana of the Lama and Consort in union, this is emptiness and method, emptiness and compassioninseparable, functional as one.  We can take them apart to discuss or to understand them, but in truth the bodhichitta cannot be separated from emptiness.  And the true awakening to the bodhichitta comes from the fundamental view of understanding the emptiness of all nature.
In Vajrayana, we are asked to accomplish many things.  One thing we are asked to accomplish is, of course, the realization of emptiness, the understanding of emptiness.  We are asked to understand the arising of compassion as being consistent with the understanding of emptiness.  What we can't do is change that or build it or control it, or anything.  By simply letting go of the idea of duality, the display of truth must surely arise, and that display is the bodhichitta.
 Copyright © Jetsunma Ahkon Norbu Lhamo All rights reserved