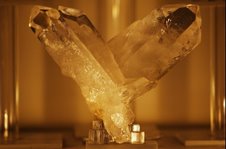 An excerpt from a teaching by Jetsunma Ahkon Lhamo from the Vow of Love Series
Do you remember the innocent sense of longing you felt when you first started to seek the spiritual path? You must have felt it at one point or another, or you could not receive this teaching. You could not. You must have longed to purify suffering. You must have longed to be of benefit to someone, sometime. You must have longed to attain the end of suffering, and there must have been the desire to do that in order to help others. It has to be.
Remember how happy you were when you felt that innocence, that beautiful longing? There was a time when you were really happy when you thought that. Now, of course, we're too sophisticated. We're on the path, and we're already practitioners. So we tend not to continue with that thought in our minds, but we should. We should constantly, with great longing, make prayers in that direction. That's how you begin aspirational Bodhicitta. You begin to make prayers of longing: "I long to benefit beings. I pray with all my heart that I can take whatever form necessary in order to bring peace to the world, in order to benefit beings, in order to end the suffering of beings." You should cultivate that longing, really and truly. You should do that until tears are in your eyes. You will find when you begin to develop that ability those tears are not sad tears. They are the happiest tears you'll ever cry, and they are a heck of a lot more happy than going to the shopping mall and buying something new. I mean, really, that sounds like a superficial comparison, and it is. But we spend much more time at the shopping mall than we do longing to be of benefit; we should long constantly to end suffering.
You begin in that way. Then you start to think of the emptiness of self-nature, even if you don't know how to meditate. If you haven't the technique, then you might contemplate upon the emptiness of self-nature. This goes hand in hand with living the extraordinary life of compassion. They are inseparable, because along with the emptiness of self-nature is the understanding that all suffering is born of delusion. The antidote to that suffering is the annihilation of delusion. It's the same as the meditation on emptiness.
For instance, let's take a crystal. It looks really, really clear. A crystal is exactly like your mind. It is exactly like the nature of your own mind in its clarity. In its natural state, it is free of any form. There is no form in there. It is said that the nature of mind is clear, self-luminous, that it exists in such a form that once any distinction is made, it is not understood. It is free of any contrivance, in the same way that a crystal is free. When you look inside a crystal, you see only clarity. A better example, of course, is a crystal that is perfectly clear without any flaw, because that crystal is exactly like your mind, perfectly clear, without any flaw. You, in the natural state, are that. You are pure suchness. The moment you began to appear as you do now, was the moment you began to make distinction. In the natural state it is not so. The mind is clear, self-luminous, free of contrivance, completely relaxed. It is not gathered around itself, because it has no conceptualization of self. It's completely relaxed. It is suchness.
Copyright © Jetsunma Ahkon Lhamo. All rights reserved