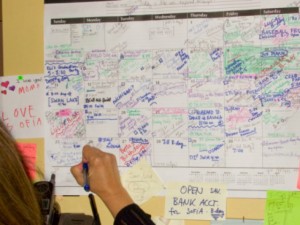 The following is an excerpt from a teaching by Jetsunma Ahkon Lhamo called "Antidoting the Mantra of Samsara"
New students keep saying "Well this is amazing. I've been looking for something that's that deep and that profound and this sounds really good, and as soon as I have time, you know, I'll get into it. But right now I have children, and I have wife and I have a job and I have a car to support and all these things. So you know, I'm really for you and I hope lots of people become Buddhists and do all this. But right now for me I have to wait. I have to wait for a while. I have to wait 'til my kids grow up. I have to wait 'til my car is paid for. Right before I get the next one. And I have to wait for…, I just have to wait, you know, because waiting is what I do."  And so the thought that we have when we're waiting is that somehow this is all going to work out well. We'll be exposed to the Buddha's teachings and we'll hear something. It's that magical thinking: It'll just sort of come together eventually.
Actually, if you really think about it, the Buddha's teachings are so extensive, so developed, so profound, so deep that they take time to contemplate, to understand, to prepare for, to even build the foundation that causes you to practice foundational preliminary teachings. It takes time. Why? Because you have to change in the process!  We're not in the business of applying bandaids here. It takes time for you to change. Some of you change faster than others. And it takes time to do the practice. The practice is extensive. So, I'm looking around the room now and I'm seeing that most of us are not under 10 years old. Therefore, whether we're 20, 25, 35, 45, 55, 75 or however old we are, and it seems like there's a mixture here, you need to start right now. Because there's not much time.
There are two reasons: First of all the Buddha taught that there is no guarantee as to how long any of us are going to live, and you can't understand this. For some reason it is beyond human capacity to understand this kind of thing, unless you yourself have been struck with a terrible illness or a terrible accident where you could have died or may still, or unless you've seen someone near you just kick off. Once you've had that experience you may understand, but before that, it's very hard to understand what the Buddha has taught. There is no guarantee that you're going to wake up tomorrow. Or next week. Or next year.
The second reason is the cause and effect relationships that constantly engage our own sea of karma. That sea of karma that is already hooked up and functional within our mindstream is very fluid and it's constantly being catalyzed by other events. Each one of you most likely has the karma to live for a very long time and also the karma to die quickly. Which one will ripen?  Well, that's up to you, according to how you practice, according to how you live, according to how you determine your mind state because everything you do, everything you think, everything you engage in is an additional cause and effect relationship and an additional catalyst. Everything you do is important.
So for each and every one of us the wisest thing to do is to begin to practice now. You know yourself very well. You know when you tighten up. You know what you need. You know when you get scared. You know when you do your best. You like to think you don't know and you kind of get limp and act like you need guidance for everything, but in fact you do know. You do know how to take care of yourself if you stop and think about it and engage in some self-honesty. So do whatever it takes to mother yourself through, to nurture yourself through, to get to the point where you can actually practice.
Copyright © Jetsunma Ahkon Norbu Lhamo.  All rights reserved