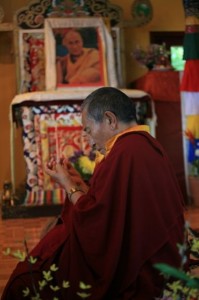 An excerpt from a teaching by Jetsunma Ahkon Lhamo from the Vow of Love Series
Let's say you're not up to following a qualified teacher. Let's say you don't go that route. You can still meditate. You can still follow those basic precepts that are brought to us through the enlightened mind of the Buddha without going that route, if you wish. You may wish to bite off a small piece, and then see if you want another piece. There's no problem with that. You might realize some of the basic teachings, such as all sentient beings are suffering; there is an antidote to that suffering, which is supreme enlightenment. When we reach enlightenment there is no conceptualization of self, therefore there is no desire. Therefore, there is no discursive thought. Therefore, there is not the cause that creates the effect of suffering.
You must also realize that all sentient beings desire happiness, no matter what they are doing. Even if they are robbers, rapists and murderers, and they are doing things that look to you like all they're trying to do is hurt people. They are confused. They have the karma of murder in their minds. They are completely deluded. They are whatever you want to call them. But in their deluded way, in their feverous way, they too desire happiness. All sentient beings desire happiness. Yet, all of us, whether we are murderers, rapists and robbers, or if we are the nicest little New Age flower children you have ever seen in all your bliss-ninny days – we are just so sweet and we walk around with flowers in our hair and only eat vegetables and tofu – even if we are like that, we are still creating the causes for unhappiness. I'm giving it to New Age people, but I'm just making fun. It's no big deal. I've been known to eat tofu on occasions also! Anyway, even if you're that kind of person, you are still creating the causes for more suffering. You know that's true, because while you may not be murdering anybody, if you look at your life and look at the probability of the continuation of your life, you will at some time be sick, you will certainly age, and you will certainly die. There will certainly be circumstances you cannot avoid describing as suffering.
In order to get to the depth of this awareness we can begin to practice as the Buddha practiced. We can begin to take the antidote for desire. We can begin to take the antidote for the belief in self-nature as being inherently real. Therefore, the antidote will also be applied to the clinging and the reactive relationship of hope and fear, the attraction and repulsion syndrome, which is the mother of karma and circumstance. These are what cause circumstance and they will become eliminated.
How should we apply the antidotes? First of all, by living a life that is as selfless as possible and by beginning to purify our minds in such a way that we really honestly examine ourselves. Just how much of an ego do we have, anyway? If we can sit there and think, "Oh God, such an ego, you can't believe it!" If we can do that, then we're on our way, and we probably have less of an ego than the next person. If we're truthful with ourselves, we'll discover that any one of us has an ego that is so enormous; we're surprised we can fit in a room. We have to begin to examine ourselves as carefully, diligently and purely as we possibly can.
How do we do that? Do we just sort of go through our stuff and process it? No, I don't think so. I don't think the thing to do is to process it and be sorry that we have a big ego. What we want to do, actually, is to begin to practice in such as way that we say, "Okay, I have this ego. I want to apply the antidote. What is the antidote? The antidote is to strive to constantly live a life in which my welfare becomes less important – because I am only one – than the welfare of others, who are many." Again, it doesn't mean you roll your eyes heavenward, become extremely thin and become a martyr. I don't think that is the answer. The answer is that you live a life in which you consider how you can best benefit beings. You can start by aspiration, the aspiration to be truly compassionate. If you don't have the technique, if you don't know what to do first, begin through prayers of longing.
The Vow of Love is available on Amazon in both kindle and paperback formats
Copyright © Jetsunma Ahkon Lhamo. All rights reserved