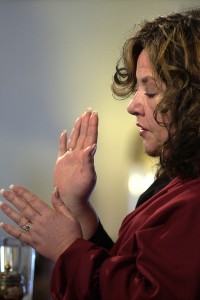 Being grateful for the many gifts I have been endowed with in this very lifetime, I now wish to offer a prayer usually associated with vows:
Today I have picked the fruit of this lifetime. The meaning of this human existence is now realized. Today I am born into the family of buddhas and have become an heir of the enlightened ones!
Now, no matter what occurs hereafter, my activities will be in conscientious accord with the family, and I shall never engage in conduct that could possibly sully this faultless family! Like a blind man in a heap of refuse, suddenly by chance finding a precious jewel, similarly this occasion is such that today I have given rise to the awakened mind!
Today, before all of my objects of refuge, the sugatas as well as all beings, I call to bear witness where the guests of this occasion- the devas, Titans and others- all join together to rejoice! The precious Bodhicitta, if unborn, may it arise; when generated may it never diminish and may it always remain ever-increasing!
Never apart from Bodhicitta, engaged in the conduct of the awakened ones, being held fast by all of the buddhas, may all demonic activities be fully abandoned!
May all the bodhisattvas accomplish the welfare of others, according to their wisdom mind's intentions.
Whatever wisdom intention these protectors may have, may it come to pass for all sentient beings.
May all sentient beings be endowed with bliss, may the lower realms be permanently emptied! May all the bodhisattvas, on whatever bhumi they remain, fully accomplish all of their aspirations!
From "THE PATH of the Bodhisattva: A Collection of the Thirty-Seven Practices of a Bodhisattva and Related Prayers" With a commentary by Kyabje Pema Norbu Rinpoche on the Prayer for Excellent Conduct
Compiled under the direction of Venerable Gyatrul Rinpoche Vimala Publishing 2008
I find that prayer soothing, comforting, and dedicate it to all who are suffering in any way. May all beings benefit!