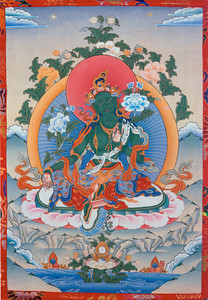 An excerpt from a teaching by Jetsunma Ahkon Lhamo from the Vow of Love series
There are many Dharma practitioners who practice for many years, go on retreat, and even take ordination. Then at some point, some karmic switch flips in their minds and suddenly they're finished with Dharma! They don't want to do Dharma anymore. They're on to something else. We may think that's strange, but it has happened, especially to Westerners. It's not uncommon for a Westerner to practice Dharma sincerely and then flip tracks, and go back into a very ordinary kind of life. That need not happen to you. But it could. You should face that possibility.
The antidote for that event is to cultivate compassion in your mind every day. If you move along the path of Buddhadharma and become overworked by it, thinking, "I just can't practice that many hours a day. I cannot do this activity that propagates the Dharma anymore. It's just too much." If you become dry inside, if you think you just can't go on, there's only one way that that could happen to you. You have forgotten the suffering of others.
You must cultivate the memory that even in this visible world where beings can be seen, there is suffering that you cannot comprehend. You must think that there are children being abused everywhere, that there is starvation and poverty. You must think about the terrible diseases that afflict the body, speech and mind. You must think about the horrible things that come along with suffering, and the depth of suffering that exists, even in the realms that you can witness. If you think about that everyday, more about that than you do about yourself, you will not fall off the path of Dharma. When you become weak, when you waiver, that is when you forget. That is when you think the path is all about you. It's when you forget that you are practicing for their sake, and that you are practicing also to liberate your mind so that you can be of benefit to others.
A non-Buddhist practitioner might say, "I've got another idea. Why don't I do what I know how to do best. I'll go out and make some money, and then I'll feed everybody. I can do that."
I'll tell you a story about when I went to India. In our innocence, we thought, "Let's go see Bombay; this is really going to be great." So we got in a taxi and we went through the streets of Bombay thinking that we were going to see the India on the postcards. What I saw were streets so filled with sickness – leprosy, deformity, unbelievable poverty – that I couldn't see anything else. I know there were beautiful buildings. I know there was beautiful scenery, but I couldn't see those things.
Every time the taxi stopped, people with only part of a limb and open sores of leprosy would stick their arms in the car and beg.  Mothers would hold up their babies that they had done something to, saying, "Help us, help us." So I started passing out dollar bills to everyone. I soon realized I was in deep trouble as I only had a limited amount of money, but that didn't stop me.
I was traumatized by this. I was crying to the depth of my heart, because I had known that suffering existed, but I was used to my brand of suffering. I had never seen anything like this. I continued to pass out dollar bills, and finally the taxi driver stopped. He turned around and said, "Lady, don't do this anymore. What is one dollar going to do for these people? Maybe they'll eat today. What will you do for them tomorrow? And if you give out one dollar to everyone you see, there are so many people like them in India, you couldn't help them all." His saying that shocked me; he was right. Even if I could manage to become wealthy, I couldn't feed the world. And hunger is only one kind of suffering. How can you help the other kinds of suffering? This kind of ordinary compassion ultimately does no good.
Why are those people suffering in India, and why were you born here in the West where things are relatively comfortable? Why are there animals and why are there humans? Why are there other realms of existence? Why is there so much suffering in one place, and much less suffering in another place? It is because of karma. That is the reason for all of this. Yet there is a cure for negative karma, which is the kind of karma that causes suffering. Ultimately, it is the only cure that will work. That cure is the eradication of hatred, greed and ignorance from the mindstreams of sentient beings. And the root of hatred, greed and ignorance is desire.
This doesn't mean if we see starving people we shouldn't feed them, that we should immediately teach them the Dharma. That, of course, won't work. We have to be skillful. If people are hungry, we feed them first, and then we teach them. But your job now is to do neither. You might not have money, and you might not have the ability to teach just yet. But you can do something. You can practice Dharma in such a way that you, yourself, become free of hatred, greed and ignorance. You can practice so that you can liberate your mind from cyclic existence for one reason and one reason only: that after liberating your mind, you can emanate in a form that will continue to benefit beings. You can liberate your mind from desire to such a degree that you have only one hope, and that hope is that you will be born again and again in a form that will bring this antidote to other suffering beings. That's what you can do.
© Jetsunma Ahkön Lhamo