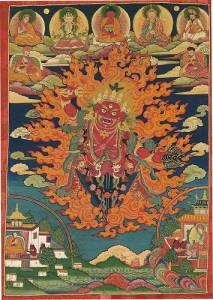 The following is an excerpt from a teaching by Jetsunma Ahkon Lhamo called "This Time is Radical"

I've been watching my own patterns, and I'm going to share with you my great 'Aha!' I realized recently in my own practice that for the past few years, unbeknownst to myself (although maybe on some intuitive level, I understood. Yeah I did. But not in my brain, not where it registers. You know what I'm talking about?), I realized that I have been making myself stronger; and I have been gathering my courage. Things have happened to me in the last few years that I wouldn't dare the infinite, but when life changes and experiences come that would have terrified my little jellyfish heart before, they don't phase me at all now. Things that used to scare me half to death, don't scare me at all now. And I realized that I've been gathering my courage.
I started practicing more deeply about a year and a half ago. Not that I didn't practice before that, but when I started to practice more deeply, just going in, going into my practice, everything outward changed, quite naturally without any effort. 'Aha.'
There's an understanding. If you're mind is right and if you practice accordingly, and if you walk the path appropriately, you don't have to worry about the outside stuff so much. It tends to take care of itself. Not if you are going, 'Ah!' the whole time. You've got to have the mind of Dharma. That's not the mind of Dharma. If you practice four hours a day even, and the rest of the time you're going 'Ah,' that's not the mind of Dharma. If you are really into it, if you are really deep, honest, and in touch with your practice and it is a relationship in your life, more important than any other, it fills a category that nothing else can fill; and it prepares you for anything, which is good, because anything is just about to happen.
I've been gathering my courage and causing myself to change in ways that I never thought I could have. And though I wouldn't want to do it over again, it's okay. It's always okay because it is for the benefit of sentient beings, and in my mind decisions have already been made. Whatever I can do to benefit sentient beings, I will do. I will do it. No matter what I think about it or whether I like it, or whether I feel like it, I will do it. And that's what I have been preparing myself for, that kind of certainty.
I knew there was a time when I'd have to look samsara in the eye and say, 'This is enough.' And this is that time. I feel that for each and every one of us, this must be a time of courage. If we can't gather our courage together at this time, it will be very hard to gather it together later. Right now at this time, we have a certain leisure to practice. For those of you who have full time jobs and are practicing on the go, you may say, 'I beg to differ.' But let me tell you the old proverb, 'It could always get worse.' And if in some way we end up with obstacles that cause us to have to live differently, or to scramble for existence the way much of the world has to do, then we'll find a way to practice then too, but now's the time to be strong. And this is the time when we can really commit to being an active Dharma presence in the world. The thing that I have come to understand is that this is no time for us to hang out in our comfort zones. And I am just about to leave mine, like Monday actually. Some of you know what I'm talking about. I think that in this time, we've got to give it all we've got. If you can give renunciation, if you can really do that, do it. This is it. Everything in samsara is falling apart, and it is time to be what you can be.
I feel that we all should take a posture of Dharma warriors. Not a warrior to harm anyone but a warrior for the path, a warrior who cares for the path, who guards the path. This is when we generate the deity. When we generate the different buddhas and bodhisattvas, we realize that each of them has qualities and activities; and it is just as important to establish their activities in the world as it is for us individually to engage in their qualities. The activity aspect of the Buddha nature is not method. It is something. So we prefer to sit on our cushions and say, 'Ti-do-ti-do-ti-do. I'm practicing, and I look stunning doing it.' But really we should also be active. We should not only be engaging in the extraordinary kindness of practice, but also in the ordinary human kindness of everyday caring for those around us, caring for the world at large, caring for beings who are suffering—animals, people, whatever, anything that lives—doing all that we can to end suffering. To engage in that kind of practice in this world today is very, very powerful practice.
Copyright © Jetsunma Ahkon Norbu Lhamo All rights reserved