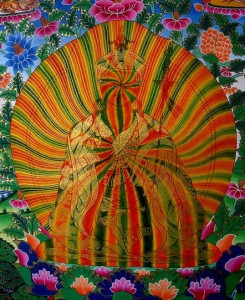 The following is an excerpt from a teaching by Jetsunma Ahkon Norbu Lhamo called "The Guru Is Your Diamond"
Guru Yoga is the most potent of all practices and it's the most simple. One can practice Guru Yoga simply by visualizing the Guru above the crown of one's head and making offerings by visualizing them, and then receiving the blessing, real quick. The white blessing from the Guru's Body to your body comes in the head, white to white; the red blessing from the Guru's Speech, from the Guru's throat to your throat; the blue blessing from the Guru's Mind, which is the heart, from his heart (or her heart) to your heart). You can receive that blessing constantly. It's free. It's yours. You can receive it periodically. You can receive it every morning, every night. Whatever you want, as much as you want. That's the beauty of Guru Yoga. And you should think that the Guru is like your constant companion. Not in a creepy way. I don't want you guys looking in my window (laughter). But in a wholesome way, where we understand that this nature is freely given, like method that one can use. It is indistinguishable from the ground which is full enlightenment, the method which is Dharma, and the result which is the completion or accomplishment of the precious awakened state.
So we understand the Guru is the ground, the Guru is the method, the Guru is the result. And we begin, through the devotion, through calling out our own nature, our own mind, our own qualities, to mix willingly with that of the Guru. Over time, that blessing mixes like milk with water and we understand that indeed, Lord Buddha resides in us all. We understand that indeed each one of us is some uncontrived beginningless and endless and yet fundamentally complete luminous nature, some state of awakened and yet uncontrived view. That we are that in our nature. Our job in this lifetime is to use the blessings of our Gurus, to use their accomplishment, their qualities, their methods, to listen carefully and accordingly accomplish awakening to that nature. It's the swift way. It's the rocketship. It's powered because it's like lighting something at both ends. You're not thinking, "Oh I have to go there." We are thinking, "This is like a mirror and a mirror"—inseparable in their nature.
Here in America, we have a lot of pop-psychology. We all have these little boxes about how relationships ought to be. Pop-psychology has told us how big they ought to be and what shape they ought to be. We are told that we should be independent in certain ways and then sharing in other ways. One way or another way, we are told how we ought to be. I want to tell you that the relationship of Guru Yoga is not like that. For instance, in relationships we are taught, I'm ok, you're ok. What is it? Don't be co-dependent. So don't be in a co-dependent relationship. Well, if you're going to be in a co-dependent relationship, I guess it ought to be with your Guru (laughter). But you don't look at it that way. Because a co-dependent relationship is where two people who are ill or not seeing clearly or are deluded or neurotic in some way, are being neurotic together, and it fits.
Well, that's not the same with one's own Root Guru. You can freely and openly give your whole heart and know that you are not in danger. You can freely and joyfully walk, dance through that door of liberation, and you will be happily and joyfully received. You can depend utterly and completely on the Three Precious Jewels and the condensed essence which is the Root Guru and never fall. This is the one time you should not guard your heart. A difficult habit to break for all of us.
So again, we're not talking about personalities, because that's ordinary. We're not talking about you guys all coming to live at my house. Not like that. That's ordinary, ordinary context. We are thinking that the blessing of my teacher resides as me, in me, and I am that. And like we say in The Seven Line Prayer, "Following you I will practice." Through that devotion, through that practice, all the blessings of the Buddhas and the Bodhisattvas are yours. Freely given. To the deserving student, to the practicing student, the Guru will always appear. And we should always today be creating the causes for the Guru to appear tomorrow. In whatever form.
So, I guess that's it for today. It will give you something to think about. And I hope when I give teachings like this that you will really take them in. Don't bar the way. Let them come in. And if you are moved to go recite The Seven Line Prayer and open your heart and feel that blessing, then I ask you please to fill up. Don't deny yourself. You've done that for too long. Instead welcome to the banquet of Dharma and the yummy good food of Guru Yoga. I invite you to partake.
Copyright © Jetsunma Ahkon Norbu Lhamo All rights reserved