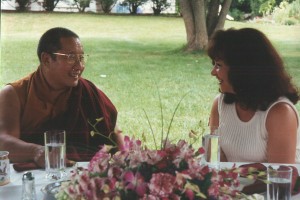 The following is an excerpt from a teaching by Jetsunma Ahkon Lhamo called "The Guru Is Your Diamond"
In Palyul, my teacher, His Holiness Penor Rinpoche…you all know him, is known as having rather wrathful moments. I've met with a couple of them, and I still flinch. But that's ok, 'cause it gets my attention.
Ultimately, we come to understand that there is no friend like one's Guru, nobody in one's life. Nobody in our lives, even if they take care of you and feed you and clothe you until the time of your death, is so willing and so eager to look out for your welfare. Our Root Gurus are more interested in our well-being than we can understand. I personally can tell you that I had a difficult time with that. I was an American. I know that I had all this old karma with the Path. I was recognized as this one and that one and the other one, and all that, but I was still a 38-year-old American. (Yes, I was 38 when I met His Holiness.) So, I was an old dog with old habits. And I have to tell you that I didn't understand that kind of love at first. I mean I understood that I felt this commitment to my students even though I had not met with the Buddhist teachers yet. I already had students and I understood the commitment to them, My teacher told me that apparently I was teaching Buddha Dharma and I didn't know it because I hadn't read any books on it. But then, when I actually met him, and he became so intimately involved in my body, speech and mind, my whole life began to circumambulate my Guru. I thought, "What is this? I've never seen love like this. I've never seen anything like this. That this Lama would come all the way across the world to find me? That he came all the way from India and the first thing he said when he hit California was, "Take me to that woman in Maryland." And so, that's how it happened.
I didn't understand that every year he wanted to see me, and so I missed some years. I didn't understand how much he is invested in my well-being and the well-being of my students. I didn't understand when he built that place up in New York… Now I understand that he built it for us. Because I can teach you during the year what I have to give you—the ripening and the deepening—and then you can receive empowerment and take the next steps on the Path with His Holiness, my Root Teacher. After we established this place here, he did that. I didn't understand that, bBut now I do.
I've never had that kind of love in this lifetime. I don't know anyone else that has either. The kind of love that will… Let me explain to you. When His Holiness was here last year, one of his particularly devoted and very close disciples passed on, Kunzang Lama. His Holiness just abruptly left even though he knew he wouldn't make it in time, just left. For that one man. And when he got there, the man, Kunzang, had left him a note. The note said, "Guru, wherever you are, you are with me and I am with you. Please do not grieve." Like that. Can you imagine? They were so close. They came out of Tibet together. They had that kind of devotion to each other.
Copyright © Jetsunma Ahkon Norbu Lhamo All rights reserved