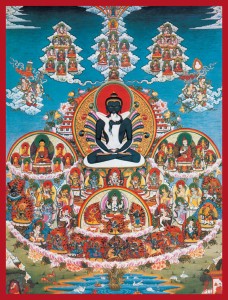 From a series of tweets on October 20, 2010 by Jetsunma Ahkon Lhamo
A few precious words taught by Kyabje His Holiness Penor Rinpoche.
The great master Buddha gave three main sermons to lead sentient beings onto the Path of Liberation from the suffering of samsara. Because beings have different levels of mind and interest, Buddha has given the teachings in nine Yanas or paths. These nine paths can be divided into the paths of Hinayana and Mahayana. Mahayana includes both Sutrayana, which emphasizes the practice of Bodhicitta and the six perfections, and Vajrayana, which utilized the techniques of deity meditation and skillful means of attaining Enlightenment.
The first eight Yanas are steps to the last and highest Yana called Atiyoga in Sanskrit. Ati means the best, top or essence. Yoga refers to the practitioner. Dzogchen, the practice of Atiyoga leads the practitioner directly to Enlightenment.
The Namcho (Space Treasure) Dzogchen preliminary practice is called "Buddha in the Palm of Your Hand." By accomplishing this practice one can realize the nature of mind. An important and necessary foundation for higher Dzogchen practice, the preliminary practice consists of several steps.
Refuge or entering the gate of the three precious Jewels; Bodhicitta, the practice of the six perfections and the generation of the aspiration to realize Enlightenment; offering the Mandala, the accumulation of merit through skillful means; Vajrasattva, the purification of obscurations through Wisdom; and Guru Yoga, receiving the blessing through which one can attain Enlightenment in a single lifetime.
All components are necessary, as the Lama provides the maturation of the mind or there is little result. This Cycle of Revelation was revealed by Terton Migyur Dorje, who received it from Arya Avelokiteshvara and Guru Rinpoche.
This was from Kyabje Penor Rinpoche. With great longing, I bow down.
© Jetsunma Ahkon Lhamo