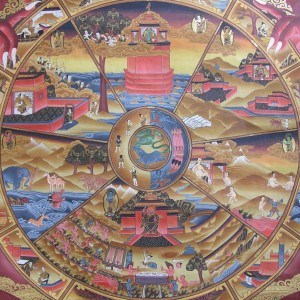 The following is an excerpt from a teaching by Jetsunma Ahkon Lhamo called "Bodhicitta" 
The subject today will be Bodhicitta, or compassion. From the traditional point of view, it is considered that Bodhicitta is divided into two basic categories. There is the aspirational Bodhicitta and the practical Bodhicitta. The aspirational Bodhichitta is the first relationship with Bodhicitta or compassion. In this sense, you can use the word Bodhicitta and compassion interchangeably. The aspirational level is the first relationship with Bodhichitta that each of us would approach, and this is a very important step. This step is the beginning of the cultivation of a stability of compassion within the mindstream. The practice of aspirational Bodhicitta begins with very small baby steps. It is absolutely dependent on understanding some of the Buddha's basic teachings in order to do it effectively, in order to approach it effectively. One of the reasons why this is so necessary is that the Buddha teaches us of the faults of cyclic existence. The Buddha teaches us, as well, that suffering ceases when we achieve enlightenment. The Buddha teaches us of the cause of our suffering. He teaches us that suffering is caused by desire. And we come to understand suffering in a completely different way than we do just as ordinary sentient beings. 
Upon hearing the Buddha's teaching, we might view suffering differently. Before we heard the Buddha's teaching, we might think it possible to solve suffering through manipulating circumstances in ordinary human ways. We might think that a poor person is suffering because they have no money. We might look at the superficial angle of suffering. Looking at that suffering from a superficial angle, we actually can only develop a very superficial understanding of it. Ultimately we will have very little understanding of the nature of suffering at all, and therefore, will be incompetent to prevent more suffering or the continuation of suffering. To look at suffering from the ordinary superficial sense, we might consider that a poor person suffers because they have no money, or a sick person suffers because they have no health. And this would seem perfectly logical. Everything in our environment points out that this is the case. We would think that whatever we are lacking, that thing is the cause of our suffering; and whatever we have that we don't want, that thing is the cause of our suffering. But according to the Buddha, this is really symptomatic. These things that we witness are symptomatic, and they do not necessarily lead us to understand the deeper cause of suffering. So we must turn to the enlightened teaching of the Buddha, of one who has crossed all of the barriers of suffering and has experienced the cessation of suffering in order to determine what the real cause of suffering is.
According to the Buddha, the things that we suffer from, such as poverty or sickness, or old age, sickness and death in the human realm, or all of the different sufferings that are potential and possible within the six realms of cyclic existence, in fact, are only symptomatic of a deeper underlying suffering, That suffering is actually the belief in self-nature as being inherently real. The suffering of the belief in self-nature being inherently real, or the delusion of the belief in self-nature as being inherently real actually leads to the suffering of desire. Because the tricky thing about belief in self-nature as being inherently real is that once you decide you have a self, you have to maintain it. Once you have the view that the self is here and it's very real, then you have to constantly redefine and clarify the meaning of self by defining the distinction between self and other, And then all phenomena appears to be separate. Even one's own feelings appear to be separate. All things that are present in the world appear to be separate and they are filled with the sense of distinction. Whenever something registers on the five senses, whether it be an altar, or whether it be something like food, or whether it be another person, whenever that thing arises in the mind, we determine whether we like it or don't like it. There is an automatic attraction or repulsion phenomena that occurs. If you will examine yourself, you will see that this is true. It simply is not possible for you to see something or to have something come to your awareness without having the immediate, almost knee-jerk reaction of deciding if you are attracted to it or repulsed by it; or there is some aspect of that within your mind. It may play out a little bit differently; but if you examine it, you will see that the root of it is attraction and repulsion. All things play on the senses in that way.
The thinking then of the separation, or the erroneous perception of the duality between self and other, becomes more and more profound. It actually progresses and it builds on itself. It becomes more exaggerated. Each time that you react with attraction or repulsion toward anything, there is a karma, or a cause and effect relationship, that is begun at that time. This cause and effect relationship then continues to create more cause and more effect. And there is an almost continual building of these instances, one on top of the other; and they are endless. There is no way for this to stop. It occurs in a cycle. And it occurs in such a way that while cause and effect are being experienced, more cause and effect continue. While one is dealing with the effect of previous causes, one is beginning new causes because of the reaction to the effect of previous cause. And it continues to be so that it seems to be unbreakable and unshakeable.
© Jetsunma Ahkon Lhamo all rights reserved