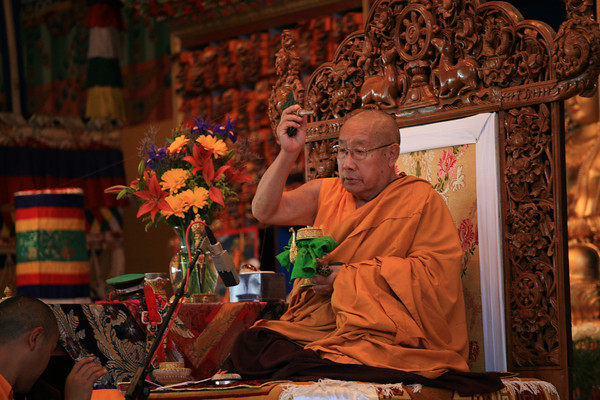 His Holiness Penor Rinpoche offered this teaching prior to doing a Ganachakra Puja for Jetsunma's long life at New York Palyul Retreat Center in 2005.
Today is the 15th day of the sixth month of the lunar calendar.  Jetsunma has some sickness or obstacle, so we are doing this Rigdzin Dupa Ganachakra Puja for her.  Some of Jetsunma's students here requested this puja.
I met Jetsunma a long time ago.  I examined her for a while, and then recognized her as the incarnation of Rigdzin Kunzang Sherab's sister known as Ahkön Lhamo.  Ahkön Lhamo, the sister of Rigdzin Kunzang Sherab lived near the Palyul monastery in a nunnery, which is in front of the monastery, and then in a place called Trong Mar, which means Red Valley.  It is called Red Valley because there were lots of nuns.  Ahkön Lhamo used to give teachings there to the nuns who wore red robes, filling the small valley, so that is why the place is called Trong Mar, the Red Valley.  Since then there has always been a nunnery there.  Even these days there are still about 200 nuns there.
I recognized her and then at KPC a long time back we did an enthronement ceremony.  Before I met her, she was giving the teaching on generating bodhicitta. Just among her disciples, there are 2-3 at all hours of the day and night trying to meditate on bodhicitta.  And she carries on Dharma activity in accordance with the other activities.
Since I named her in that way, there are lots of people in America who are jealous and have all sorts of problems with it.  That kind of jealousy doesn't harm her; it harms the person who is jealous.  Many people also try to complain and say things to me.  Although people ask me many questions about that, I don't have to humiliate myself, because I am a Palyul Throneholder, and I have my own rights regarding what I need to recognize.  Of course I cannot tell lies, but what I need to do, I'll do.
Most of the other Nyingma schools just believe whatever I say, and especially all the Palyul traditions or Palyul monasteries.   Of course they believe me 100%.  There isn't just one Palyul Monastery.  There are hundreds and thousands, and in all those monasteries there are a hundred monks or a thousand monks, and all of them respect whatever I command.  There is nobody who says, "This is right or this is not."  But in America because of jealousy, some people say certain things, but there is no meaning.  In general America is a strange country.  Sometimes it is said that, "In your tradition there are mostly male teachers, and there aren't any female teachers."  And then Jetsunma is appointed and then again they are jealous and say something else.
Since we are human beings of course it is possible to make mistakes.  There is no one who just sits there like an enlightened Buddha.  Just because one doesn't understand or makes a little mistake or does something, then you start complaining.
Jetsunma is a good and perfect teacher.  I don't think she is deceiving anybody.  And among Jetsunma's students, there are a whole bunch of monks and nuns, and she disciplines them all.  There is nobody else among women in America who could do that.  She is good and special. It is good for everybody to know that she is also one of the Palyul tulkus.  These days she is getting older and she has all sorts of sickness.  So for her longevity of life, we are doing this Ganachakra Puja.
It's not just Jetsunma.  In America there are many other females and males who are incarnated ones.  But the problem is that the nature of Americans is to have so much pride.  With the recognition, the pride and ego develop so much that in the end it is difficult to benefit. As a practitioner and as a bodhisattva family, then naturally one should be humble and peaceful and loyal to the practice.  Developing pride doesn't really help anybody.  When it is said that you are good or something special, then their pride or ego develops.  If that happens, then it is more harmful than beneficial.  For those who are noble beings, receiving all these teachings and doing the Dharma practice can benefit other beings.  Otherwise thinking that, "Oh, I'm something very special," is like having a horn on your head and walking around.  It doesn't help anything.
Anyhow, today we are doing this Ganachakra Puja for the longevity of her life.  Thank you.