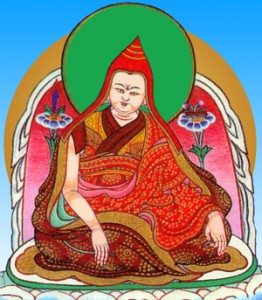 The following is respectfully quoted from "Drops of Nectar" as translated by Rigzod Editorial Committee of the Ngagyur Nyingma Institute:
Chapter II
Transforming Appearances into the Dharma
Again at this time, having brought forth strong renunciation and disenchantment with my own and other's perceptions and the activities of this present life, I sing this song of the points of training.
On the great plane of the ground of all experience, which has no beginning and end,
An ignorant person wanders about with the feet of grasping and fixation,
Oppressed by the suffering of boundless samsara.
Mistaken one, to you I now offer this advice!
Without contemplating the suffering of cyclic existence,
Renunciation and disenchantment with it will have no time to develop;
Without contemplating the difficulty of achieving the freedoms and favors,
There will be no time for joy and inspiration in the sacred Dharma to come forth.
If you do not constantly contemplate death,
Heartfelt Dharma practice will never occur.
If you do not regard the benefits of liberation,
There will be no time of achieving unsurpassed enlightenment.
Without contemplating the causes and effects of virtue and evil,
the white and the black,
You'll have no time to grasp what to adopt and what to abandon, what is Dharma and what is not.
Without casting off the activities of this life,
You'll have no time to accomplish the sacred Dharma for the life to come.
If heartfelt renunciation is not born within your mind-stream
There will never be time to give up distractions and diversions.
Without toppling, down to its foundation stone, the wall of amicable relationships,
There will be no time for the mind that is too attached to others to end.
Without leaving behind all deluded activities at one go,
Although you're busy day and night, you'll never have time to recognize.
If you don't always keep humbly a low position,
You'll never have time to tame your unwholesome mindstream.
Please pursue this excellent permanent aim from today!
The first virtue is to develop the mind of renunciation and weariness,
The second virtue is to abandon concerns for this present life,
The third virtue is to maintain the examples of the holy masters.
This is upholding the permanent domain of Dharmakaya, the permanent domain of the Victorious Ones!
From the Vajra Song of Instructions for Rousing Myself (Longchen Rabjam), this completes the second chapter of transforming appearances into the Dharma.