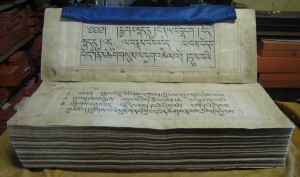 The following is an excerpt from a public talk given by His Holiness Khenpo Jigme Phuntsok:
When we think about the validity of religions—in terms of traditions, in terms of sciences internal and external, and in terms of pith essential pointing out instructions—there is no religion that equals that of Buddhism. At this time there is no opportunity to really go into it; but in terms of the validity of the tradition which goes back for thousands of years and is documented in pechas, or scriptures, which are available at this present time, if one were really to investigate the qualities of the Buddha's path, it is something quite extraordinary and unequalled by any other religion. I would be more than happy to explain every single reason why in absolute detail, but there wouldn't be time for that today, nor would there be time in the days that I have here, and you probably would become quite bored with listening to it. So we'll leave it at that, but please understand that these points are fully documented in the scriptures that we have available to us which date back some thousands of years.
Because of my own qualifications and so forth, at this time I can tell you all that I am a practitioner of the Buddhist religion. I am a Buddhist, and yet I can assure you that at no time in my life have I ever felt a sense of attachment to Buddhism because that is my own religion, nor have I ever felt a sense of aversion to any other religion because it was not the religion that I specifically pursue. So please do not feel that I have any partial attitude towards my own tradition or a biased attitude towards any other tradition being inferior to it because I never have felt this way. However, for a very long period of time I have examined not only the Buddhist religion but many other religions, and Buddhism, as practiced in the land of Tibet, is practiced according to three great lineages or rivers of this tradition which have come down over the centuries from India, China and Tibet. Maybe many of you have heard of the Panchen Rinpoche who asked me to be personally responsible for examining the lineages and updating them and correcting any sort of discrepancies that may occur in present times. Due to that I spent a lot of time going into further examinations of the traditions, and I came to the conclusion that the path of Buddhism is absolutely unequalled by any other. It is absolutely superior.
Therefore I would encourage each and every one of you to carefully examine the spiritual path that you are involved in to make sure that you have not made any mistake. If you don't examine your spiritual path and you just sort of mindlessly enter into a tradition which has no validity or true source, this is what is called delusion, ignorance. We Tibetans have a saying, "Don't be like a dog." If you put fresh lungs in front of a dog, the dog will just devour those lungs without even thinking for a moment, will just scarf them down. Don't be like this in terms of pursuing a spiritual tradition. One should be very careful to examine in minute detail. And once one has found out for oneself through that process of analytical investigation that this is a true path and a path that is valid and has a true origin, then one can enter. But please don't just aimlessly enter a spiritual path without thinking.